On Friday 17th July 2020, the EBD team celebrated its third year with an online party, panel, brand pitches and best-dressed competition. Our founder, Roberta Lee, has always believed that ethical and sustainable fashion doesn't mean compromising on aesthetics – and at our birthday we proved just this! Despite the last few months spent in isolation, everyone came together with optimism, style and hope for a better future. 
Roberta wanted to say a few post-events words and a special thank you to everyone who celebrated with us…
"I think the hardest thing about being an entrepreneur that wants to make a positive impact is the impossibly high standards we set for ourselves. It can be a tough and often thankless task setting up a business. It is said that 8 out of 10 entrepreneurs fail within the first 18 months, according to Bloomberg. And we've all heard the scary stat that 80% of businesses will fail in less than two years too. It's also estimated that 50% of small businesses fail in their fifth year. This is why EBD's monthly coaching and accountability calls, weekly breakout video calls are so important for our members. Community is everything when you are starting out and I am very proud of the wonderful network we have created here at EBD, even though we are London based, we reach the rest of Europe to Canada and the US.
I have never believed in something as much as Ethical Brand Directory and it's potential to help change the world – but it's not been easy. I haven't always got it right, some things I have tried to do have completely flopped. It's because of my firm rooted belief that EBD can make a positive impact – I have not given up. Transitioning 'conscious consumerism' from a niche to a norm was never going to be easy, it's not an overnight process.
I'm grateful that EBD is still going, and we're still growing, we've been able to adapt to the new climate, and move into a new phase of development. I was absolutely delighted to be able to host a birthday party online this year with amazing panellists, inspiring brand pitches and a best-dressed competition for those who joined. And of course, sharing our big reveal!
I also want to thank so many people who have been pivotal in the process, such as Steve Woody who helped build the first prototype, so we could get a proof of concept out there. To our wonderful volunteers, our amazing interns past and present, and of course our small but humble and hardworking part-time team members that we have today. This year's party would not have happened if it wasn't for Darko Dimitrovski and Abbie Clarke who worked frantically alongside me on the launch of the new Roberta Style Lee website and the Ethical Brand Academy, Dayna Welch and Roshni Durve also played an important role, as well as our wonderful fashion judge Lucy Hall from Loanhood and our panellists Paul van Zyl and Dr Rob Wylie.
I couldn't do any of this without the support and encouragement of the EBD family, our EBD friends and supporters. So a massive thank you to you all. We are EBD because of you."
Panel DISCUSSION on 'The Future of Impact Brands'
At EBD we are committed to sharing knowledge and ideas with our community to better equip ourselves for a more collaborative future. So in true EBD fashion, we welcomed a panel of industry professionals to discuss a world after COVID-19 – and why ethical and sustainable impact brands are well-positioned to lead the change.
Roberta hosted the panel and was joined by industry experts, Dr Rob Wylie (founder of Wheb) and Paul Van Dyl (co-founder of The Conduit London).
The panellists shed light on the challenges and opportunities we are facing in a post-COVID world and what we can do as consumers, business owners and thought leaders to do good.
Our founder opened the panel asking: "What opportunities are there for brands doing good in a world post-COVID?"
First up on the panel, Dr Rob Wylie responded that "small companies are the drivers of growth". Rob reflected on the close correlation between food and agriculture and fashion, concluding that – in the end – both have people as the end consumer, not businesses. And in the post-COVID climate, small businesses have the agility to change what they're doing. As many already have, most small businesses are now adapting their workplace to prioritise the health and wellbeing of their employees.
On the other hand, Rob posed the question: "how can we ensure changes that have happened are of the benefit of individuals less fortunate and the environment?." With reference to the inequality crisis, Rob highlighted the importance of making sustainable and ethical living accessible, without excluding those less fortunate. With 90% of employment coming from small business, a phenomenal sense of community spirit and generosity has been seen throughout the COVID-19 crisis and consumers are concerning themselves more with health and the planet.
Key takeaway: "Small businesses are essential to post-COVID recovery." – Dr Rob Wylie
Paul Van Dyl, complemented Rob's points, drawing attention to the massive premium attached to brands with purpose, emphasising that a sense of purpose and sustainability are being pushed to the forefront rapidly since COVID.
Paul predicts that these small brands are going to disrupt big brands and their methods, coming out on top.
Key Takeaway: "[it is] inevitable that brands and companies compete but there is an emerging spirit from brands with purpose is to collaborate to achieve success" – Paul Van Dyl
Both Paul and Rob emphasised the power in a community of brands with purpose – "it's an exciting and important moment to be in the world of ethical fashion" – Paul Van Dyl
Pitching to Win: Ethical and Sustainable Fashion Brands
At around 7.30 pm (…a little bit later than planned), we kicked off with the brand pitches – one of the most highly anticipated events of the evening. We welcomed 4-brands to pitch their business to us, for a chance to win EBD membership up to £1440!
First up, Ismay Mummery introduced Boy Wonder, an ethical boyswear brand. Mummery shared how their "garments are designed around circular fashion principles with ethics and sustainability at their heart. The hand-drawn designs use materials and inks that are fully certified, kind to people, planet, and children's skin." What makes Boy Wonder so unique is the fact that "products are designed, printed and made ethically in Britain, just 20-minutes from the office!"
Taking her turn in the pitch hot seat, Kirsty Mawhinney presented Visoanska, an eco-friendly, luxury French skincare brand. Visoanska primarily seeks to "co-exist in perfect harmony with both ecological and luxury environments bringing more environmental responsibility to luxury and more luxury experience to ethical products. Over 100 ingredients are blacklisted to narrow down a list of ingredients that do not compromise the natural biodiversity or the health of our skin.
Next up we had Jenny Allan, the founder of Jenerous. Jenny explained how her past volunteer experience in Indian fuelled her determination to start a brand that would make "a positive difference to people like those that [she] met on [her] trip in India". Jenerous' brand values are short and sweet: "Ethical, stylish and affordable." Jenerous seeks to differentiate themselves from other ethical brands that primarily offer fashion basics by creating a "timeless","stylish" and "contemporary collection".
Last but by no means least, Sarah Jordan introduced YOU Underwear – a brand that makes "super soft, stylish, cotton underwear for men and women". Their underwear is all about "looking good, feeling good, doing good".
We want to personally thank each and every brand who took a chance and pitched to us. After deliberating with the judge and hearing your votes, we announced our winner…drum roll, please…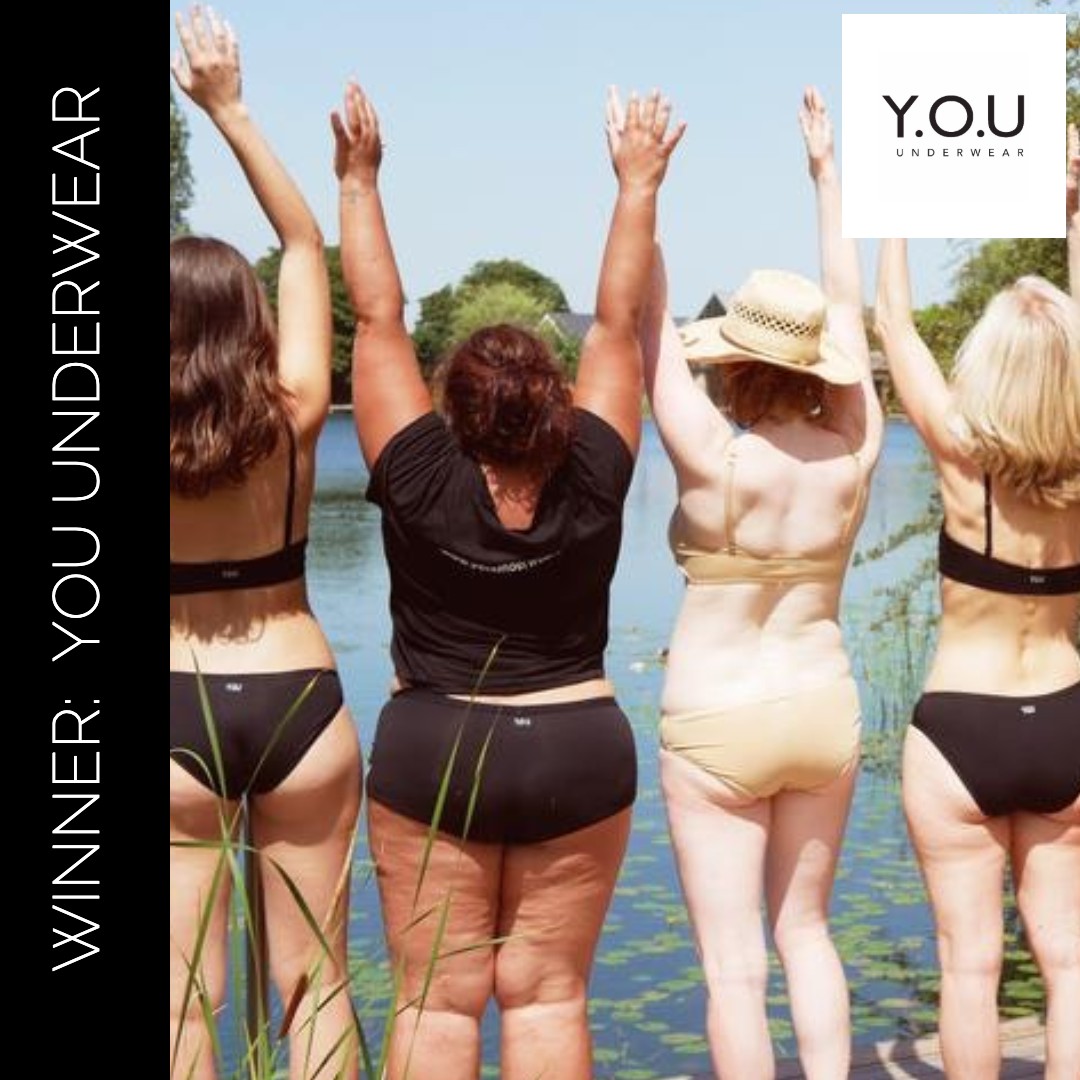 The winning pitch and strong brand values won over the judges. We are delighted to welcome YOU Underwear to the EBD family! Keep an eye on the Directory, their brand listing and interview will be up soon.
Ethical Brand Directory: Best Dressed Award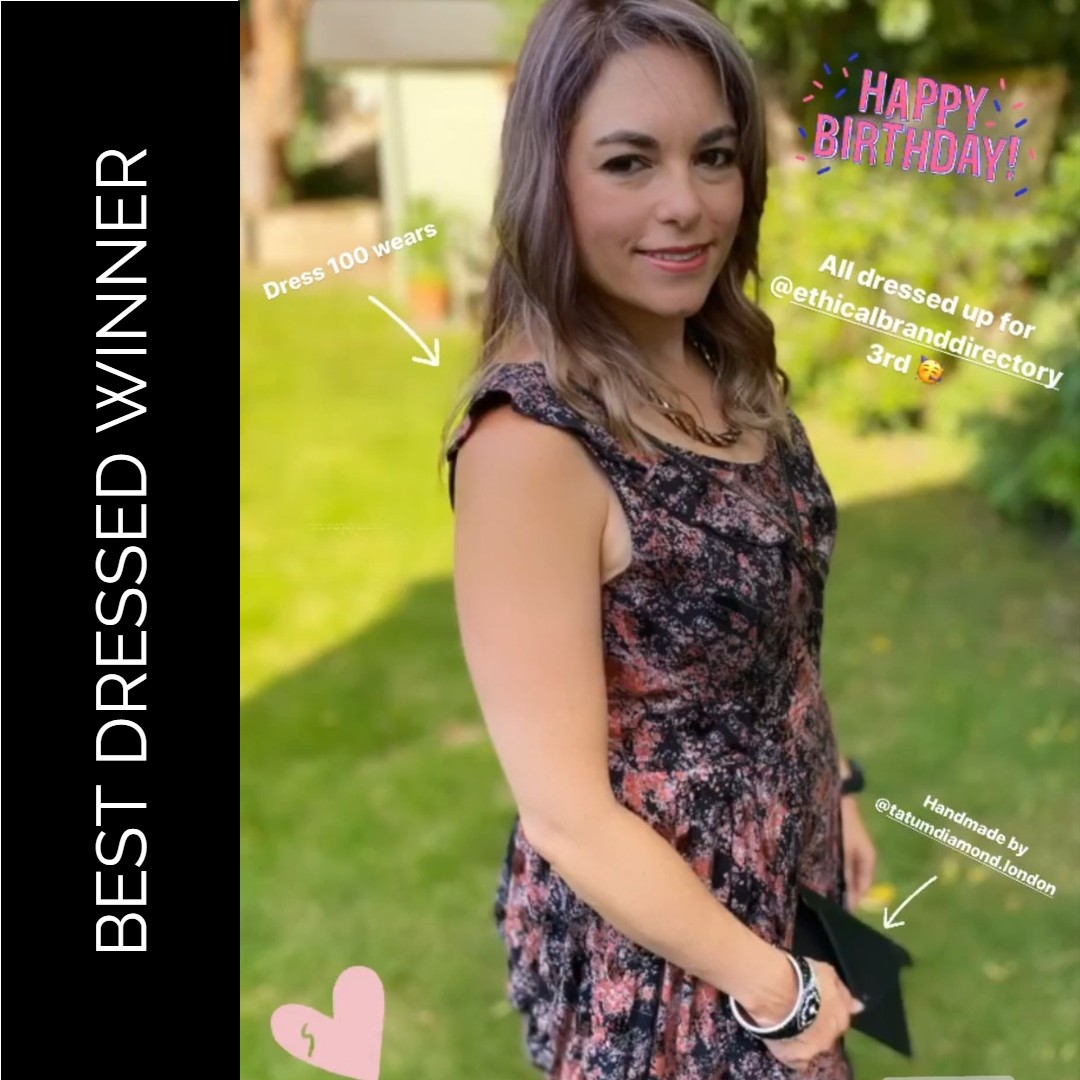 This year we asked you all to get your glad rags on to help us celebrate in true style! Thank you to everyone who dressed up and shared their #EBDBestDressed snaps on social media – we loved seeing all of your party looks!
Joining our founder on the EBD Best Dressed judging panel was the lovely Lucy Hall from Loanhood – a clothes rental company that is redefining fast fashion. We're delighted to announce that Ethical Brand Directory's Best Dressed award went to Tatum Diamond, founder of Tatum Diamond London.
Tatum looked gorgeous in her 100 wears dress, which she teamed with her own handmade Jaykar clutch bag (available via our EBD Boutique)
The Big Reveal
Before concluding the evening, our founder had a few exciting announcements to share… and this was that the entire branding for Roberta Style Lee and Ethical Brand Directory has been given a much needed facelift! The brands both share the same aesthetic – but different logos. We really hope you enjoy the new look and feel of the websites and find them easy to navigate.
Create Your Own Personal Style Course
What some of our community may not know is that Ethical Brand Directory all started because of Roberta Style Lee! Back in 2017, Roberta launched EBD in beta via the live Roberta Style Lee website, as a way to help her styling clients find stylish and sustainable fashion brands.
The two businesses work together fantastically! But as a London-based stylist working with VIP clients, our founder realised that her impact was limited by time and location. Inspired to make sustainable style accessible to everyone, our founder has relaunched her long-awaited style course, to help everyone wear their values…no matter their location or budget. All you need to start mastering the style basics is commitment…and a wifi connection.
For a limited time, Roberta is offering a birthday discount on the 'Create Your Own Personal Style' course. If you enrol before August 2020, you will receive a 50% discount on the course! So what are you waiting for – enrol today using the button below.
The Ethical Brand Academy: Supporting Brands Doing Good
And if that wasn't enough excitement, we're very proud to announce the long-awaited relaunch of our Ethical Brand Academy, designed to help the ethical brand community thrive.
Since launching the academy in beta over 2-years ago, we've gained a lot of feedback on our training sessions and on the type of guidance and support that brands are looking for. So after some trial and error, testing and gathering more data – we're proud to show off the new and improved EBA!
We have over 50 recorded sessions that are available for our members to access at any time and from any device, so you can learn and grow at your own pace. And from August 2020 we'll be adding new sessions each month.
Are you ready to skill up and start investing in your business? Read more about our membership benefits and how you can join the Academy here.
We hope you had a great time – and if you didn't manage to join us, don't forget to sign up to alerts so you don't miss out next get together..
The EBD Team x
This blog was written by Dayna, Abbie, Roshni and Ines.