Armchair Activism - Global Campaigns to Support
Why does armchair activism matter?
In June 2021 we hosted our Wednesday Wisdom session and shared our thoughts on Why Armchair Activism Matters with participants from the UK, US, and Brazil.

We heard some great views and options that really got us thinking. We all believed armchair activism is an important stepping stone and a great 'entry' point on the activism journey.
We noted we all need to be careful to not dismiss it as 'not enough' as people do need to start somewhere, and it's better to make it easy for people to engage in activism activities that suit their lifestyle.
Take a look at the campaigns below and show your support, sign a petition, donate to a worthy cause, or take to social media and let others know about the causes you care about. We've also included links to campaigns that you can attend in person, and we've updated this page to reflect the campaigns calling for a peaceful resolution between Russia and the Ukraine.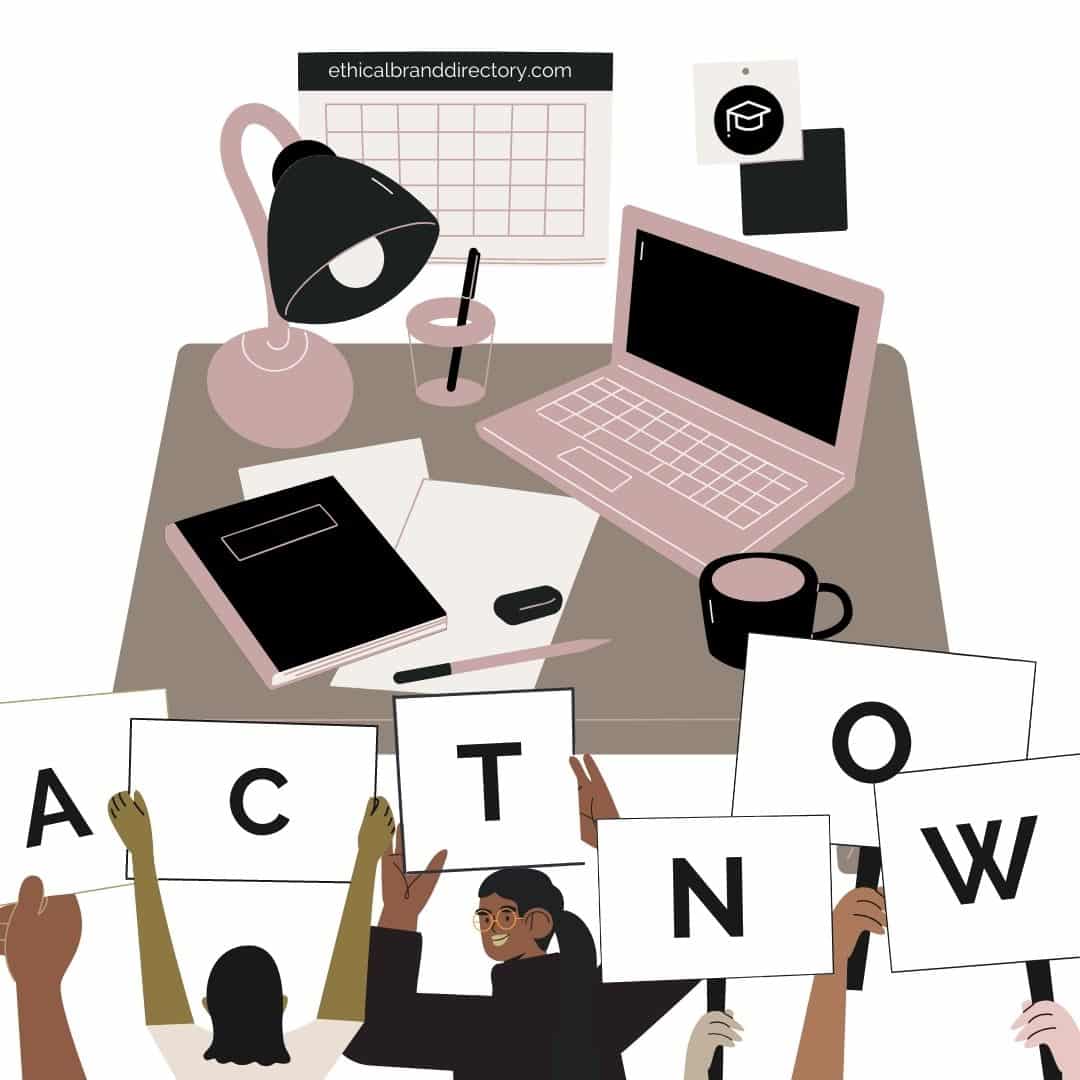 ACTIVISM NOW: SUPPORT ANTI-WAR CAMPAIGNS & DONATE TO CHARITIES SUPPORTING THE UKRAINIAN PEOPLE
This section has been added to reflect recent world events and the devastating conflict happening in the Ukraine, initiated by Russia. Nobody wants World War 3 – we must put an end to this now.


Please support in any way you, no contribution is too small.
FASHION ACTIVISM CAMPAIGNS
ENVIRONMENTAL ACTIVISM CAMPAIGNS
DO YOU HAVE A CAMPAIGN YOU WANT FEATURED?
Send us the details and official pages so we can check the campaigns are legitimate. We will endeavour to get it listed on this page, which is designed to be a simple quick and easy resource.
Our main focus is Fashion Activism, Environmental Activism, Supporting Women and Social Activism & Welfare in response to COVID-19.
All too often, there is no justice for women and girls affected by violence.
But around the world, there are heroes in communities, law firms and police stations who are fighting to fix broken legal systems that protect abusers and punish survivors. These heroes include lawyers sacrificing their fees to help women access justice in Ghana and feminist school graduates in Jordan who are demanding change. 
Will you join ActionAid in supporting campaigners across the world who are putting the power back in the hands of women and girls who survive violence? 

SIGN THE PETITION 





Native American tribes and communities are struggling to properly fund tribal law enforcement agencies, which leads to increased amounts of violence on tribal lands. 
American Indians and Alaska Natives (AI/AN) women experience violence at much higher rates than the national average, while they represent 2% of the population. 

SIGN THE PETITION 



Help Lighthouse and their Oakland County partners ensure no person goes hungry or without a roof over their head during this community crisis. 

*This Campaign was brought to our awareness and put forward by one of our US based Wednesday Wisdom Members 
In the era of COVID-19, providing shelter for those without homes is vital to the health of all.

In Community Forward SF currently houses 265 San Franciscans who would otherwise be on the streets and at great risk of contracting and spreading the virus.

Show Your Support & Donate What You Can


*This Campaign was brought to our awareness and put forward by one of our US based Wednesday Wisdom Members 
For the third year in a row, eight local nonprofits are working together through the HandUp Detroit Collaborative to raise critical funds for the homeless. People seeking services often cross county and city lines, and these Detroit and Oakland County nonprofits often serve the same people who continue to seek help. By partnering with each other instead of competing, the HandUp Detroit Collaborative is creating a better way to meet the basic needs of people in their region experiencing poverty.

Donate What You Can 
*This Campaign was brought to our awareness and put forward by one of our US based Wednesday Wisdom Members