We believe that as a business, it is important to define your values.  These values set a standard for how we want to run our business and what impact we want to have on the World. 
Our Founder Roberta Lee wanted to make it easier for conscious consumers like you to find brands that are aligned with your values.  Our simple values icons help you see which brands are aligned with the things you care about the most. 
"I believe that we can all make a positive impact through our purchasing habits, the clothes we wear or the brands we support." – Roberta Lee,  Founder of Ethical Brand Directory 
Support the brands who care about the same things as you.
UNITED NATION SUSTAINABILITY GOALS
"The Sustainable Development Goals (SDGs), also known as the Global Goals, were adopted by all United Nations Member States in 2015 as a universal call to action to end poverty, protect the planet and ensure that all people enjoy peace and prosperity by 2030.
The 17 SDGs are integrated—that is, they recognize that action in one area will affect outcomes in others, and that development must balance social, economic and environmental sustainability.
Through the pledge to Leave No One Behind, countries have committed to fast-track progress for those furthest behind first.  That is why the SDGs are designed to bring the world to several life-changing 'zeros', including zero poverty, hunger, AIDS and discrimination against women and girls.
Everyone is needed to reach these ambitious targets. The creativity, knowhow, technology and financial resources from all of society are necessary to achieve the SDGs in every context" .  [UNDP.ORG]
To find out more about the SGDs and the plan for 2030 – watch this VIDEO.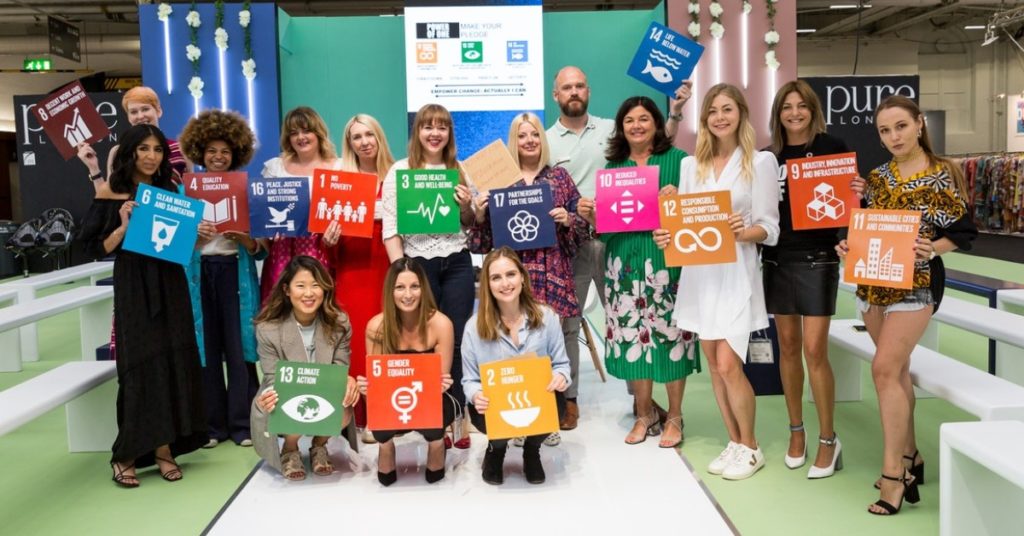 All of the United Nations Sustainability Goals are important, however it is not possible to focus on all of them at the same time.  Not all of the SDGs are as relevant. Therefore at Roberta Style Lee and Ethical Brand Directory we are primarily focused on the 4 mentioned below. 
SUSTAINABLE DEVELOPMENT GOAL 5
Achieve gender equality and empower all women and girls
Our Founder Roberta Lee, is particularly passionate about gender equality and female empowerment.  High levels of human rights violations happen in the fashion industry where 70% of garment workers in China are women, in Bangladesh the share is 85%, and in Cambodia as high as 90% [Fash Rev].  It's important to question where the things we buy come from and if they are contributing towards gender equality or exploitation. 
SUSTAINABLE DEVELOPMENT GOAL 12
Ensure sustainable consumption and production patterns
We believe that economic growth should not lead to the depletion of our natural ecosystems. In a world where we buy things we do not need, we believe fuelling this constant demand for new things is extremely environmentally damaging.
This is why we strongly advocate for only buying things you really need and taking time to curate your life's possessions more consciously.
SUSTAINABLE DEVELOPMENT GOAL 13
Take urgent action to combat climate change and its impacts*
We believe that our planet should be a priority and that we should collectively work towards the goal to reduce the impact we have on the planet.  This includes how we operate as a business,  what resources we use for our business and products, and how much we consume as individuals. Our Annual Going Green Online Summit has been bringing together sustainability changemakers, from all industries since 2018 to inspire and educate us all on how we can 'go green'. 
SUSTAINABLE DEVELOPMENT GOAL 17
Strengthen the means of implementation and revitalize the global partnership for sustainable development
 We strongly believe we cannot achieve the SDGs without partnering with brands, organisations and NGOs to promote, mitigate and advocate for better behaviours globally.  Ethical Brand Directory is proud to partner with other organisations championing change, such as Conscious Campaign (a UN initiative)
Business Ethics & Sustainability
Unlike most businesses our Founder Roberta Lee sat down and created her values first and built everything else on top of them, they are the foundation. They are our guiding principles in all that we do, at work, at home and everything in-between.
" I believe it is possible to live life and do business ethically and sustainably without causing harm to other people, and minimising our negative impact on the planet."  – Roberta Lee 

You can see a more detailed page that discusses Ethics & Sustainability over on Roberta Style Lee (our parent company).