The rise of ethical fashion brands points towards a turning tide against fast fashion. Consumers are starting to demand more from the brands that make their clothes. Our founder Roberta Lee has been working in the ethical fashion space since 2015 – and over the years she's noticed the huge rise in new brands entering the market. We chatted to Roberta back in 2020 about the new surge of ethical and sustainable fashion brands emerging, the rise of new directories and companies offering similar services to us – and if all the extra competition out there is a good or bad thing.
Q. Is THE RISE IN ethical fashion a good thing?
Actually, yes, I believe healthy competition drives businesses to innovate, change, and keep up. Healthy competition is good, but collaboration is better. This is why I am thrilled to see more businesses like Ethical Brand Directory popping up. We need more organisations that are dedicated to supporting the ethical brand community to thrive. If we want to normalise being ethical, the brands that are innovating and doing things differently, need all the help they can get if they are to compete with the big high-street and designer brands.
Small independent businesses cannot be expected to compete with the likes of global entities like H&M, or Europe's biggest fast-fashion brand Zara. However, when small brands collaborate they can become stronger as a collective. It's important to recognise the influence and power that independent brands can have. Nurturing these communities is so important.
Q. Will Ethical Fashion Get Cheaper?
If we want to encourage people to shop more ethically and sustainably it has to be commercially viable. That means it has to be accessible to everyone – and affordable. Right now, most people would agree shopping ethically is really a privilege.

However, the price points for ethically and sustainably produced goods will be substantially lower when consumer demand increases. The concept of economy of scale means that the average costs per unit of output decrease with an increased level of production. The idea of collaboration and being open source is key for the future of fashion. Ethical fashion brands are more likely to share product innovation and who their suppliers are, meaning other brands can join them in making a positive impact. As more ethical, and purpose-led brands enter the market the scope for collaboration increases – and so, it isn't unreasonable to imagine a few years from now that ethical fashion price points will be much lower – and more accessible.
Q. IS ETHICAL FASHION A TREND?
Buzz words in fashion at the moment are 'ethical' and 'eco' and 'sustainable' – and many brands that are not enforcing standards are simply using these words in their marketing, misleading consumers into thinking they are a business with strong ethics. Sadly, this misleading marketing is known as greenwashing. It is something that I've spoken about, written about, and given training on to our ethical brand community members a lot over the years. It's a topic I keep coming back to, it's so important to understand what greenwashing looks like.
We cannot blame consumers for not knowing what to look out for. When big companies like H&M repeatedly make claims that are false it can feel like an uphill struggle. All we can do is keep informing, inspiring and educating consumers on what to look out for…
The big challenge with big companies like H&M and Zara, even Primark is that they have the marketing budget to capture a large audience. It's sad that they have jumped on the sustainability bandwagon, by releasing little 'eco-lines' instead of altering their business model so that it genuinely operates responsibly and fairly.

Often customers aren't thinking about what constitutes ethical versus sustainable. They see the big brands' marketing and eco-claims- and think they are making a good choice. Greenwashing is a huge problem, which thankfully has been recognised and there is a Green Claims Code in place, which should help level the playing field and give ethical and sustainable businesses the chance they need to compete commercially.
Q. HoW EASY IS IT TO Find ethical fashion brands?
I would LOVE to say that it's easy, but the truth is, even 3- years after I set up the directory – there's still a long way to go until mainstream fashion styles are readily available for people of all shapes, sizes and in a wide spectrum of modern colours.
The reason why I set up ethicalbranddirectory.com back in 2017 was due to hundreds of wasted hours of my life spent on Google searching endlessly for items my clients would like, desperately trying to find high-quality investment pieces for a sustainable wardrobe. My focus has always been on timeless pieces that won't go out of style, are ethically made and are sustainable. This shouldn't feel like such a hard task… but it still is.
Ethical fashion is still very 'niche' and whilst there are many more options, we aren't yet at the stage where it's easy to replace your existing garments with a like-for-like style, in a size that fits, in a colour that you adore, at a price that is fair, from a place that is easy to shop from.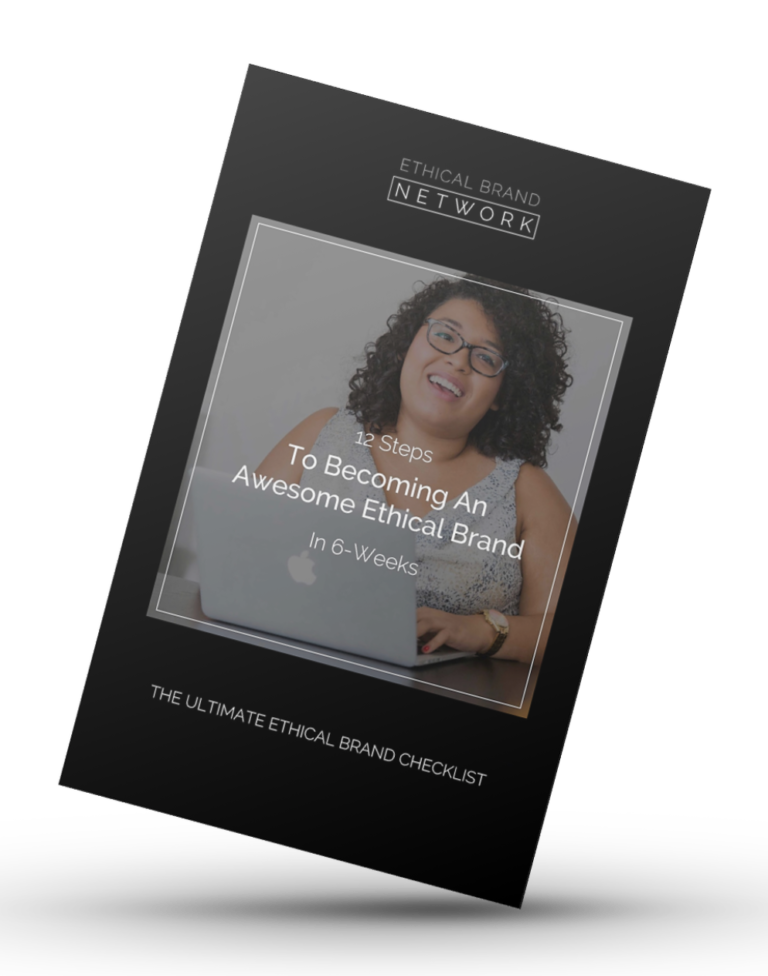 FAST TRACK YOUR brand cREDENTIALS
GET THE 12 steps to becoming AN awesome ethical brand
Join the 6-week challenge with weekly email prompts for the tasks you need to complete  
We respect your information and fully comply with GDPR.
Useful resources to find ethical brands
Ethical Brand Directory – a curated collection of ethical brands categorised by values
Good on You App – Find out how well a brand is doing, all brands featured are given an overall rating
Common Objective – an extensive sourcing resource for fashion brands, and those working in the industry
Curobe – a new digital style curator platform that helps you find clothes that fit, with the added benefit of being ethical and sustainable
Q. IS IT easY to shop for Ethical brands IN THE UK?
Since I've been working in the ethical and sustainable fashion space, I have to say it's been an interesting journey trying to shop for ethical brands for my clients. Most of the pieces are sold online, and it's never easy trying to ascertain the quality or fit, very often you need to see it in real life to be able to say if it will look good on your client or not.


The UK has felt years behind places like Australia which seemed to have a much bigger selection of really beautiful ethical brands even back in 2015. Canada was well ahead of the UK too, with an ethical fashion scene firmly established. Over the last few years, Europe has seen a rise in ethical fashion brands emerging, as well as places like Portugal becoming more popular with ethical production.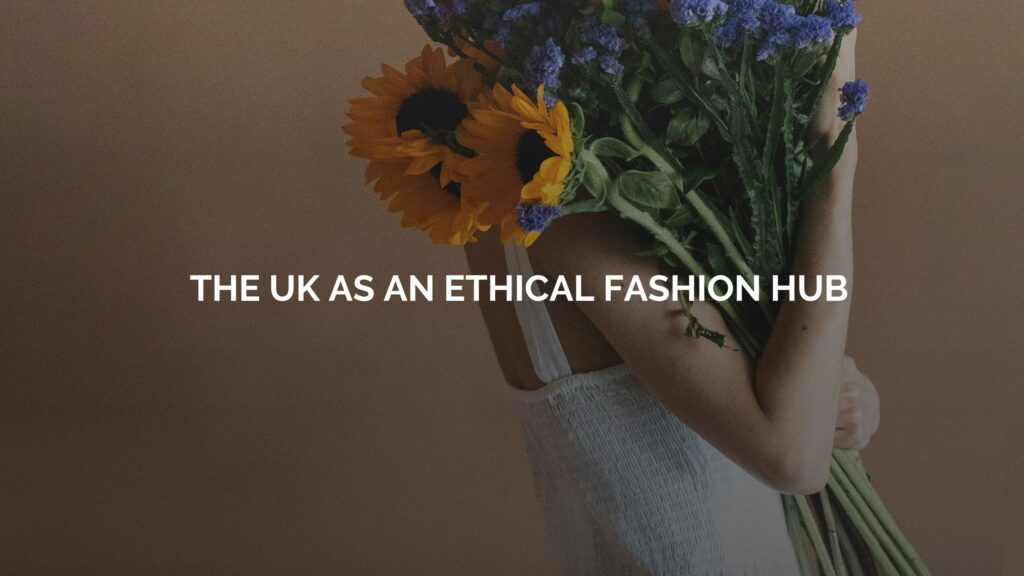 Q. could the uk EMERGE as an ethical fashion hub ?
During the beginning of the lockdown, I started to see a lot of new brands emerging in the UK – and more organisations designed to support them popping up too. If you glance online, you can find a lot of resources, business accelerators and charitable projects forming to help boost businesses in the UK. Many of them favour innovation, supporting female founders and/or wanting to support British businesses.
There is a real appetite to support homegrown businesses – and with sustainability being 'trendy' in fashion – companies that innovate, reduce waste, are female-led, are UK-based and source locally, are most likely to find the support they need through one of the many accelerator and incubator programmes available.
The UK is in a strong position – and could very well become a hub for ethical and sustainable fashion innovation.
EXAMPLE OF LONDON-BASED ACCELERATORS & INCUBATORS
Q. WHERE DO YOU FIND Ethical Brands You Can Trust?
The reason why I setup the Directory back in 2017 was due to hundreds of wasted hours of my life spent on Google searching endlessly for items my clients would like, desperately trying to find high-quality investment pieces for a sustainable wardrobe that were made ethically. My focus has always been on timeless pieces that wouldn't go out of style – made by brands who care about people and the planet, not just one or the other.
You can filter by your values, and shop with brands that are aligned with the causes you care about via the Directory.
Personally, I think EBD still has a long way to go until we have discovered all the like-for-like brands out there – we have over 3000 in our database. Our biggest hurdle is that many of these brands don't have the budget for us to review them and help them define their ethical and sustainable practices – and unless we can get brands to engage with us and be transparent – we cannot score them and give them pointers on who to improve the business.
It's a bit chicken and egg, we can't give our services away for free, as it's unethical of us to rely on volunteers or not pay our freelancers to deliver a service. But many brands just don't want to pay – and it's a growing trend, a lot of ethical brand founders definitely seem to have a sense of entitlement… they expect a lot of things for free because they are doing the right thing. And sadly, we just can't do all the work for free, so we end up having a smaller selection on our website.
Q. IS The Demand For Ethical Fashion On The Rise?
In short, yes. The UK is now overly saturated with marketplace places, eCommerce shops all selling the same ethical fashion brands, and there's another new ethical or sustainable brand launching every week.
Then we started to see the internet fill up with really wearable (not onion-dyed frumpy shapeless) brands from Denmark and Germany and this caught my attention. As a sustainable fashion stylist, I've always wanted to see real alternatives to the wearable mainstream high-street brands that don't require style-conscious consumers to comprise their style for ethics.
Ethical Brand Directory is no longer one of the main UK ethical fashion directories out there, we no longer stand-alone, nor do we feel we should be.

The more options that are out there, means there is more appetite and demand for a fairer fashion industry, where ethical fashion should hopefully be normalised and soon, we can just call it fashion.
"Ethical and sustainable fashion should be the norm, but until it is we need to help customers understand what they are looking for in a brand. Ethics and sustainability are complex areas to break down, but on a simplistic level, the welfare of the people who make the clothes and the planet – should not suffer at the cost of producing a garment, which is then sold for profit. The next step on the journey is for businesses to actually take their profits and use that to help build communities, support people, help restore biodiversity and protect our planet for future generations.

– Roberta Lee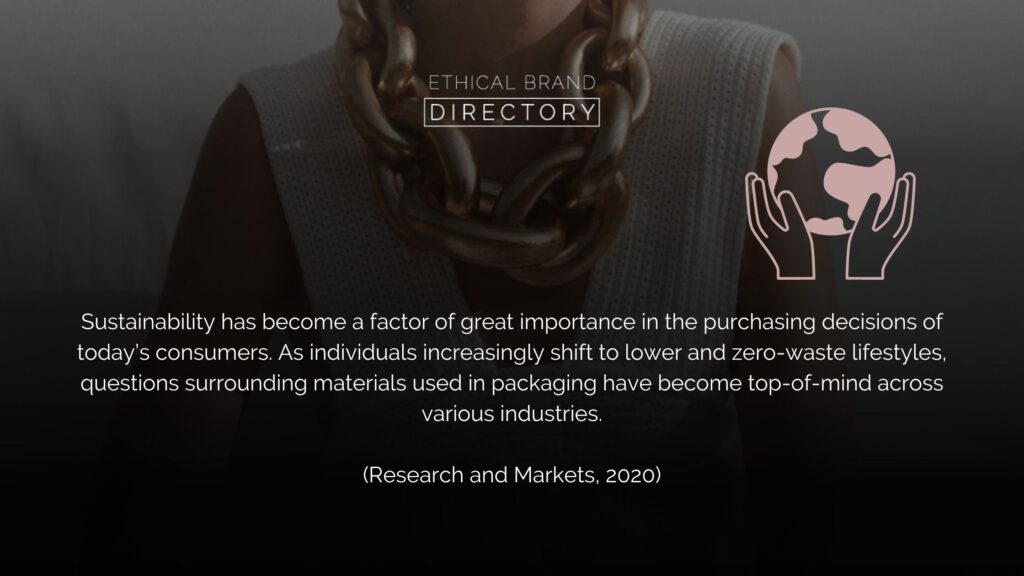 Q. HOW can FASHION brands be more ethical?
Being transparent is a great start, simply stating intentions to do better publicly, followed by clear goals and reporting on those. Having a clearly defined ethics page (which details a policy on paying a living wage, allowing garment workers to be part of a union and feel empowered, not enslaved, clean safe working conditions, regular breaks and being able to take time off to spend with their families is hugely important).

A page for sustainability really helps – far too often brands lump this together and don't go into enough detail.
At Ethical Brand Directory, we believe that sustainability is a core principle of being ethical in business. Therefore we DO ask our brands what they are doing to be more ethical and sustainable – and encourage them to improve, however, we never invite a brand onto our directory that has no proof of ethical business conduct, where people, the planet, or animals are not harmed as a result of their business running.
However, the sustainable fashion movement somewhat differs and eco-credentials and circularity are gaining popular demand – the ethical side of the business remains hazy. It must be made clear, that sustainable and eco-friendly does NOT mean ethically produced. We are an 'ethical brand directory' (not to be confused with being vegan) and we look at the welfare of workers, cruelty-free practices and sustainable business operations as part of the business as a whole.
It is arguable of course that all businesses impact the planet! And we agree, however, we are here to support and lift up businesses that are doing good. Some are doing better than others and some need a little more nurturing and guidance.
That's why we introduced a point scoring system that offers more transparency – and we actually declare areas that need to be improved – and publish this on their profile so you can see for yourself where the brand falls short. Honestly, up-take on this has been low from our existing brands – so we are looking at doing a big brand refresh and saying bye to the brands that are not onboard with this.
The Ethical Fashion Market Stats: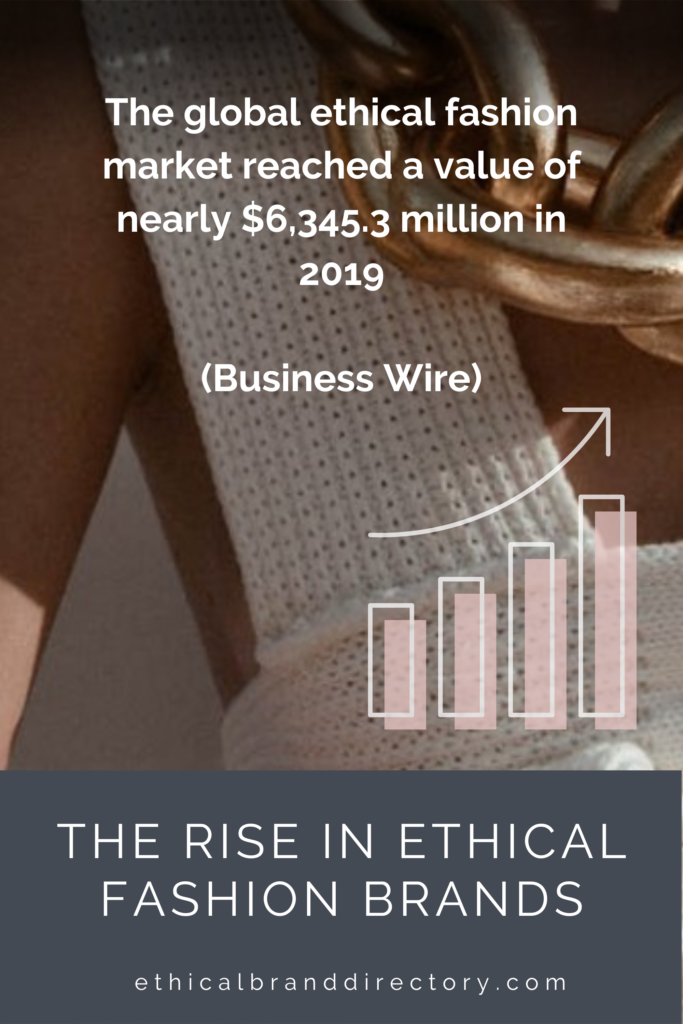 According to "The global ethical fashion market reached a value of nearly $6,345.3 million in 2019, having increased at a compound annual growth rate (CAGR)" Business Wire

"Around 66% of respondents said that they consider sustainability when purchasing a luxury product." (The Business Research Company, 2020)

Since the beginning of 2020, Lyst has seen a 37% increase in searches for sustainability-related keywords, with the average monthly searches increasing from 27,000 in 2019 to over 32,000 year to date." (Lyst, 2020)

"Sustainability has become a factor of great importance in the purchasing decisions of today's consumer. As individuals increasingly shift to lower and zero-waste lifestyles, questions surrounding materials used in packaging have become top-of-mind across various industries." (Research and Markets, 2020)

According to The Business Research Company Government initiatives encouraging the development of ethical fashion are expected to drive the ethical fashion market. And "the top opportunities in the ethical fashion market segmented by product will arise in the organic segment, which will gain $686.3 million of global annual sales by 2023"
Additional Reading On the Rise of Ethical Fashion
We hope you've found this interview, and the useful resources we've pulled together helpful. If you've got any research, a comment or updated stat to add to this article, or you have written anything similar, please pop a comment and a link below. We would be pleased to review it and if suitable we would be happy to link to it and add it to the 'Additional Reading' section.
The Ethical Brand Directory Team