London Fashion Week has started to showcase more sustainable brands. And this year we're excited to be taking part!
Our founder Roberta Lee, London's Sustainable Stylist is proud to present an EBD multi-brand showcase at the LONDON Represents event on Sunday 17 September. She has curated a line-up of our brands to take you on a colourful journey of ethics, values and sustainability. You can expect a vibrant collection that isn't defined by Pantone trends, hemlines or fashion fads.
Our Ethical Brands at London Fashion Week
Ethical Brand Directory brands being styled and shown on the runway include:
Sylvia Piechulla (plus-sized fashion)
Sanyukta Shrestha (sustainable luxury)
Jenerous (fair trade fashion)
The Reclaimery (reclaimed, upcycled and customised fashion)
Chi Feasey (custom-printed T-shirts)
Embellished Truth (leather handbags)
The Morphbag (vegan handbags)
Sustainability at London Fashion Week
The fashion industry is known for its significant environmental footprint. From water usage, toxic chemicals, and plastic pollution to greenhouse gas emissions – there's a drastic need for improvement.
Embracing sustainability at London Fashion Week can help reinforce the message that style isn't just about new things. While we love fashion at EBD, we don't believe it should come at the cost of people and the planet. Nobody should suffer in order for us to look good.
we hope our showcase Will highlight:
We all have lots of roles to play in helping change fashion's negative impact. There is room for all to make changes, whilst still enjoying fashion. The key is to be more resourceful and creative.
For fashion brands, we hope our show encourages more eco-friendly practices for future collections. This includes things like switching to organic materials, using deadstock, minimising waste, creating timeless trend-free items, or adopting ethical manufacturing processes. All fashion brands can all contribute towards a cleaner, greener and kinder world. Every brand has to start somewhere and we are here to help all ethical fashion brands navigate the sustainable landscape.
Being sustainable and stylish at Fashion Events
If you're attending London Fashion Week, consider re-wearing an outfit, or be bold and embrace outfit-repeating throughout the week. Consider showcasing vintage or renting or borrowing something wonderful.
Glamour often takes centre stage at London Fashion Week, but this year, given the climate crisis we feel it's more important to buck fashion trends. Trends come and go, but great style is forever. We don't want you to rush out and impulse purchase. We urge you to take your time, slow down and really consider your future purchases – fall in love and only buy clothes you'll wear on repeat, and keep for many years.
Supporting small independent brands on our directory is a great way to contribute to a fairer fashion industry, without needing to give up on life's luxuries.
LONDON Represents – Inclusivity in Fashion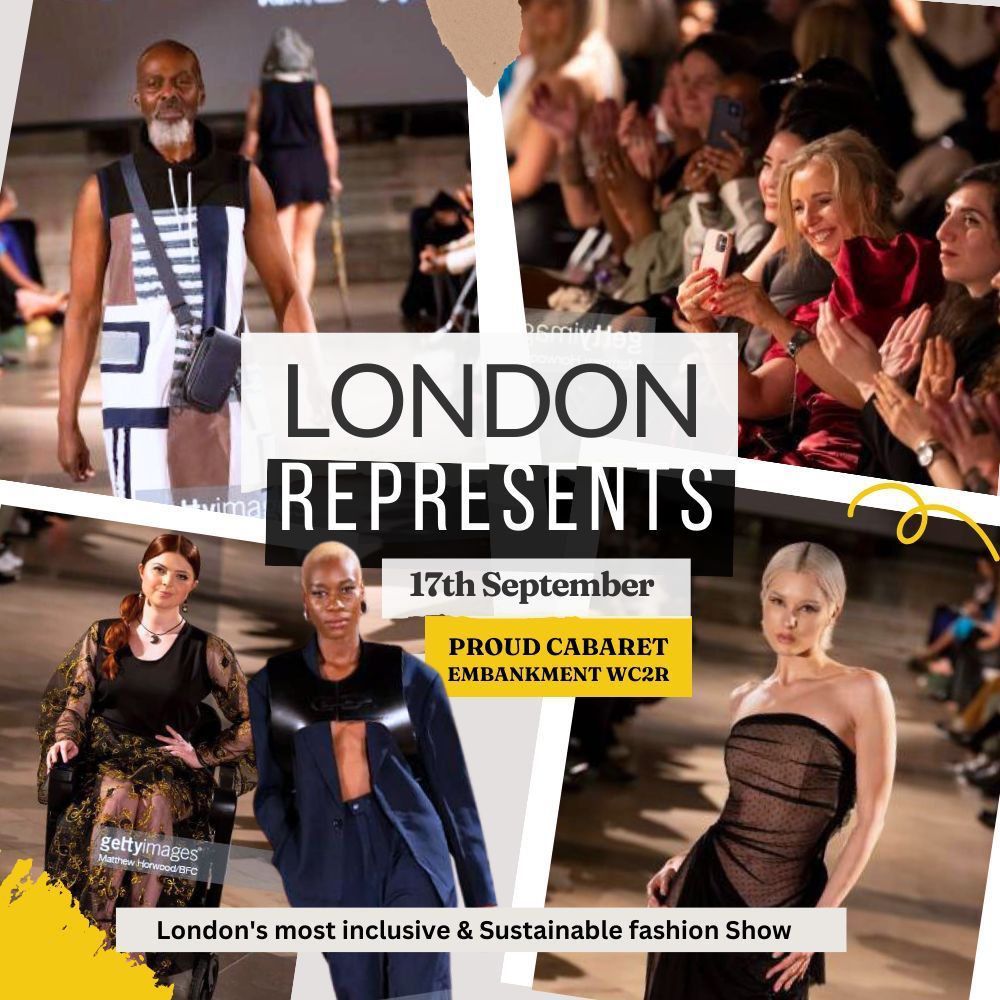 LONDON Represents has planned a dazzling highlight for this year's London Fashion Week. Hosted by London Organic PR, Cocktails & Conversation, and The SB Shop, with the exciting addition of the Ethical Brand Directory (EBD) to the fashion show lineup. This event promises to be an engaging and glamorous celebration of London's vibrant fashion scene, where diversity, style, and sustainability take centre stage.
The Head of Diversity at the British Fashion Council called their previous London Fashion Week Event "the first truly inclusive event" he had ever seen. The Daily Mail said it was "the pivotal moment" of London Fashion Week.
If you haven't grabbed your ticket yet, you can get 25% off with our code EBD25
What to expect on Sunday 17 Sept 2023
This event will be both fun and inclusive. Expect a showcase of style and ethical fashion from both emerging and established designers.
One of the evening's highlights will be the opportunity to network with influential industry insiders. You might even catch a glimpse of celebrities in attendance. Numerous media partners and sponsors are covering the event – come camera-ready to show off your sustainable glamour and style.
The venue for this extraordinary evening is Proud Cabaret, a majestic two-story location conveniently situated in Central London. Proud Cabaret is fully accessible and welcomes all guests! As you step through its doors, you'll be transported back in time to an era of glamour and luxury. There will also be a DJ and bar for networking and mingling. Be sure to use the opportunity to connect. Proud Cabaret is fully accessible and welcomes all guests!
Ethical Brand Directory's LFW Appearance
Ethical Brand Directory's runway show styled by Roberta Lee will feature up to 7 different brands. EBD is excited to present a collection that challenges the norms of the fashion industry. Expect to see a show that represents a harmonious blend of style, ethics, and planet-conscious brands.
As the fashion world evolves towards sustainability we hope our show demonstrates that sustainability and style are not mutually exclusive. This collection isn't just about clothing. It's a collection of values, ethics, and a vision for a more sustainable and inclusive fashion future. And it's definitely not beige!

Join us for this exceptional evening, and be part of the fashion revolution by joining us at "LONDON Represents. We can't wait to meet you there!
The EBD Team x