Cancelling London Fashion Week has the fashion community divided. It is unquestionable that the industry needs to change – but how we go about making these changes happen raises debate.
Extinction Rebellion have been all over the news lately, with their calls for the fashion industry to wake up to its responsibilities in the area of sustainability. There is no doubt that this is an important subject. You only have to look at the weather changes worldwide to see how big an issue climate change is.
It's safe to say that Extinction Rebellion is not far from the truth when they point the finger at the fashion industry as a major contributor to the current environmental issues that the world is facing. After all, it currently emits around 10% of the world's greenhouse gases and is continuing to grow. In fact, this growth is estimated to be 63% by the year 2030. – [Source: Dazed Digital]
It's clear that the fashion industry and its customers need to change their ways. However, the recent claims by Extinction Rebellion that London Fashion week should be cancelled may not be the best way to achieve these changes.
Let's look at the subject in more detail.
Why the fashion industry needs to change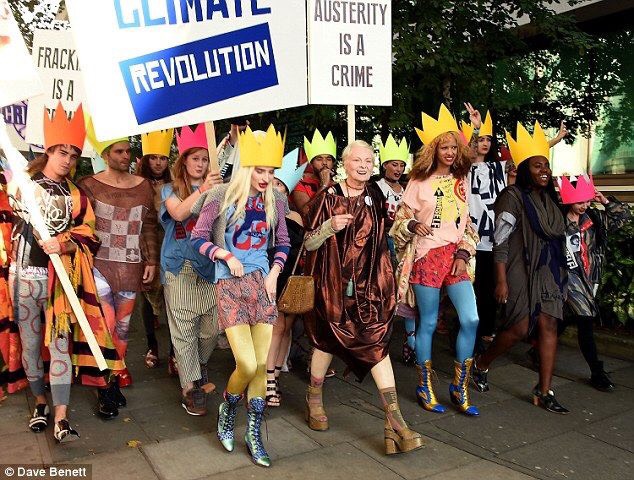 Given the fact that the fashion industry makes such a major contribution to the world's greenhouse gases, the need for change is obvious. Add to that the number of clothes that end up in landfill, and the amount of clothing dye that ends up in water supplies, it's clearly a travesty. Environmental concern has been growing over a number of years – but fashion has only recently been thrust into the spotlight for its negative impact. But now we all know… so things have to change, surely? The cat is out of the bag…
Many members of the fashion industry are already starting to see that sustainability is the way to go. There really is no planet B, there is no other choice. People, Planet and Profit need to be treated as equally important factors – the triple bottom line is something everyone should be thinking about, not just the fashion industry.

So, is cancelling London Fashion week really a good idea?
The problem with cancelling London Fashion Week
The fact is that simply cancelling fashion weeks is not going to make a big change to the fashion industry. This is because the big names are not the ones that would suffer as a result.
The cancellation would have more of an effect on young designers. These are the very people that should be taking sustainability forward so damaging their careers is probably not a good idea.
Surely, a far better solution is to change the way fashion weeks are run. They should be turned into events where much of the discussion is about promoting sustainability and changing the way the fashion industry operates. It's a wonderful opportunity for all the fashion weeks to group together to make a real change. To many people, this makes far more sense than cancelling events like London Fashion Week.
The way forward
Whether fashion weeks continue in their current format or not, other big changes need to happen in the world of fashion. Designers and manufacturers need to start considering sustainability in everything they do.
The customers who buy their fashions also need to play a part. They can swap clothes and upcycle them, rather than simply throw them away. They can also shop for clothes in second-hand and charity shops.
It remains to be seen whether changes will be made to London Fashion Week, or whether it will be cancelled altogether. Whatever decision is made, the fashion industry will hopefully start to make the big changes that are necessary.
What do you think? Will you be attending LFW this year or boycotting it? Let us know in the comments.
Blog written by Emy Venturini our new blogger to join the Ethical Brand Directory Team
Additional reading:
https://www.fashionrevolution.org/shutting-down-fashion-weeks-is-not-the-answer/
https://www.independent.co.uk/life-style/fashion/environment-costs-fast-fashion-pollution-waste-sustainability-a8139386.html
https://www.euronews.com/living/2019/08/09/why-does-extinction-rebellion-want-to-kill-london-fashion-week
————————————————
---
Emy Venturini is the founder of Ipsilon fashion brand and a designer focused on using only sustainable and ethical materials and productions. Emy has been practicing Buddhism since she was 18, this philosophy has shaped her thoughts and the constant practice of meditation has taught her to see the deep value of every human being, to show respect to nature and to spread joy around the world. Emy is our Sustainable Fashion blogger.