On Monday 10th February our founder Roberta Lee, also known as London's Sustainable Stylist took to the PURE London stage to do a live styling presentation and catwalk show. She is passionate about sharing the importance of sustainability and why we must all transition towards a more sustainable wardrobe. If you read our previous PURE London announcement blog, then you already know what a huge event and opportunity it was, as for the EBD team we love that Roberta always finds opportunities for us to get involved in her work over at Roberta Style Lee.
In true collaborative style, Dan Pontarlier (who joined EBD in Late January as Digital Strategist) was booked by Roberta as a model alongside Amanda Sarco who walked in Roberta's show last year. In addition to giving all of the interns at EBD and Roberta Style Lee an opportunity to get experience, she reached out to London College of Fashion and offered second-year student Natasha Thorton the role of MUA for the show!
The live styling presentation and catwalk
All of the hard work from Roberta and the rest of the EBD team paid off. The show was watched by an attentive crowd, eager to learn about the ins and out of creating a sustainable wardrobe. Roberta presented an informative and insightful show on the importance of sustainability and how to have a sustainable wardrobe. The purpose of her session was to teach people how to utilise their clothes in multiple ways.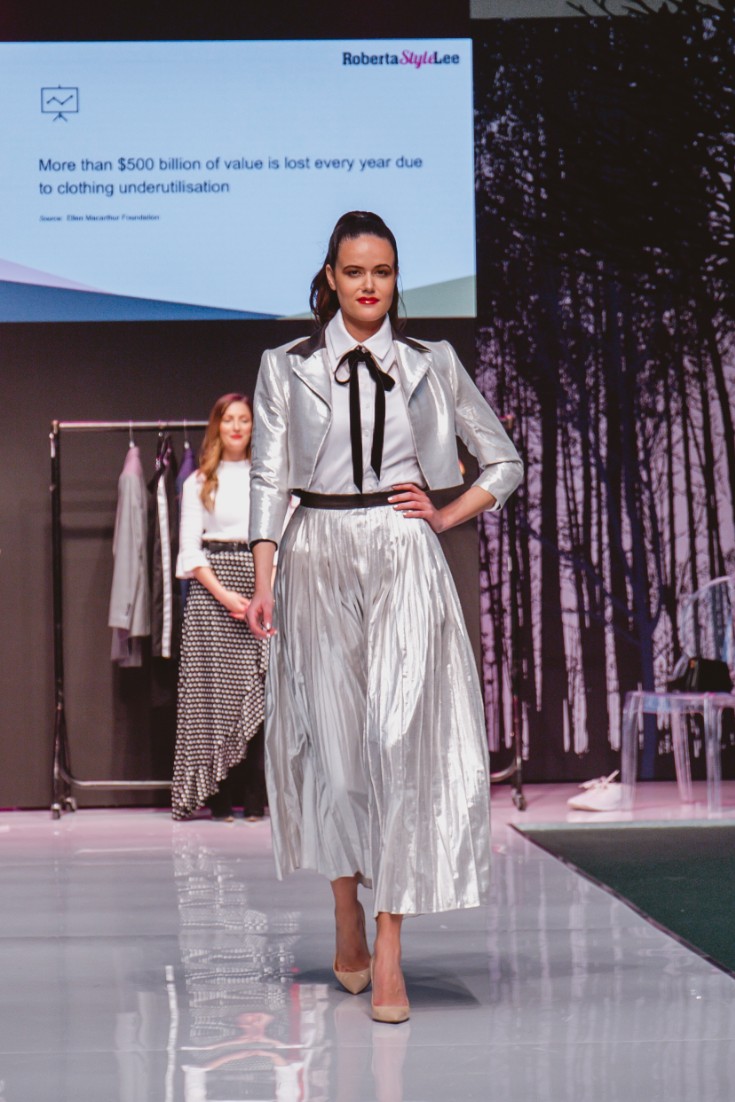 FAST FASHION STATS
Here are some of the key points Roberta spoke about during the show:

People spend too much money on clothes that aren't worn enough.
"Last year Britons spent an estimated £2.7 Billion on fashion that was only worn once." 

We need to utilise more of what we have. 
"55 % of people would like to get more use out of the clothes they buy to reduce their impact on the environment."

Buy less wear more. We need everyone to start building an imperfect sustainable wardrobe, rather than just a few doing it perfectly.
"Increasing the life of clothing by 9-months could reduce annual carbon, water and waste by 20-30% each, and cut costs by £5 billion."
Style tips from Roberta lee:
Invest in styles you can mix and match and wear on repeat.

Don't be afraid to experiment with all clothing, regardless of gender – find your own personal style.

How many different ways can it be worn?        

Think about each piece you invest in as a Return On Investment and focus on the cost per wear, rather than the upfront ticket price. Will it see more than #100wears in its lifetime?
You can find more styling tips and see all of the looks that Roberta created for the catwalk over on her blog:
The Pure London 2020 Catwalk show was a great experience and I know Roberta would want me to mention everyone who got involved:
Roberta Lee- IG: @robertastylee
Amanda Sarco – IG @amandasarco
Dan Pontarlier – IG @dpontarlier
Natasha Thornton – IG: @n.t.makeup
Khadijat Opeloyeru – IG: @khadijat.o
Dayna Welch – IG: @daynawelch_ 
Edna Lewis – IG : @eddnalewis,
Sonido Ido – IG: @sonidoido
Ines – IG : @ialomar
Khadijat Opeloyeru
PR & Content Development Assistant