Although the festive season is now well underway, we've still found ourselves asking "Can you believe it's December already?" all of this week.

Indeed, the countdown is really on!
As Christmas is undoubtedly about sharing joyful experiences and gifts, this year the EBD invite you to embrace more conscious festivities. Whilst highstreet brands will urge you to indulge in excessive spending, our team have dreamed up an ethical Advent Calendar that's full of affordable gift ideas for everyone.
A Conscious Christmas for all 

Our motto; gifting must not be at the expense of people, planet or animals. Having a conscious Christmas, and thinking about who made our gifts, supporting the brands that care – is just one of the ways we can show we care. 

The gifts have been hand picked by Ethical Brand Directory Team  and our founder Roberta Lee. She has selected a few of her stylist picks as well as. Just like all the brands vetted and checked before they join the Ethical Brand Directory, you can be assured that these these gifts have been made with love and consideration too. 
Ethical Brands 

All of our brands on our directory sell items that are responsibly made – we are incredibly proud support so many small independent businesses.  As you've probably heard a small business owners does a happy dance every time someone buys something from them – we love the idea that we are helping create a wave of happy dances! 

So have you seen our suggestions yet?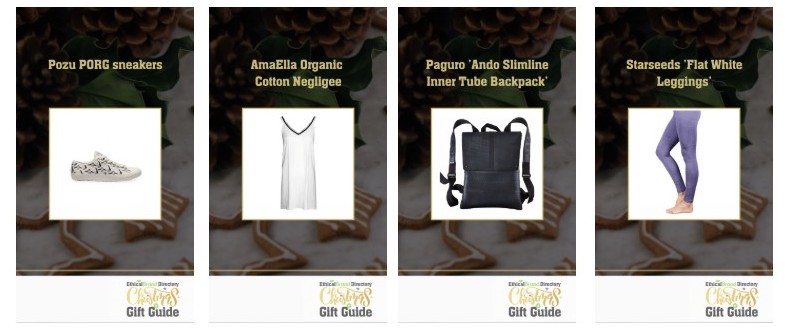 If you're not checking our website daily or following us on FB or Instagram, you're likely to be missing out.

What's more, there's been a good measure of special discounts featured too!
See the full calendar on our Instagram now
See the full calendar on our Facebook now
What will you be doing for Christmas? Let us know your own conscious Christmas choices in the comments below.
Seasons greetings from the EBD Team x 
========
Update: Check out our 2019 Conscious Christmas Gift Guides Here