Interview with the founder of Y.O.U Underwear
Thank you for wanting to be part our exclusive network. What were your reasons for joining us and investing in the Ethical Brand Directory / Academy and community?
We've always wanted to be part of the EBD community, so were thrilled to be part of a pitch contest in July 2020 in which we won an amazing membership package for the Ethical Brand Directory.
Now that we're members, we're so excited to be able use the platform to increase our brand visibility and reputation. It's a great channel for us to find customers who are concerned about ethics and style. I know that just being part of this community will be hugely beneficial for us!
Can you give me a brief overview of your brand and the type of products you sell?
Y.O.U underwear makes organic cotton underwear for men and women. We have a buy-one-give-two promise in partnership with Smalls for All, a Scottish charity that collects and distributes underwear to vulnerable women and children in Africa and the UK. Our underwear is also Fairtrade, PETA-approved vegan and made from 100% GOTS Certified Organic Cotton, and we work with one of India's leading ethical and sustainable manufacturers.
What are the 3 most important things that people should know about your brand?
Good for you: Our underwear is designed to be comfortable across a broad range of body shapes, and we use organic cotton that is super-gentle on the skin.
Good for people: We work with India's leading ethical and sustainable manufacturer that operates under SA8000 standards, and we operate on a buy-one-give-two model.
Good for the planet: Organic cotton is much better for the planet than conventional cotton. We also minimise waste and use no single-use plastics.
What was your WHY? What inspired you to set up your business?
I was inspired to start Y.O.U Underwear on a trip to Uganda in 2016, where I saw the problems associated with not having underwear. I met women and children who were being excluded from school, work and even their communities – especially during their periods – simply because they didn't have underwear. I decided to found Y.O.U Underwear on a buy-one-give-one model, which quickly became buy-one-give-TWO. We have since donated more than 10,000 pairs of underwear to Smalls for All!
What challenges do independent brands like yourself face?
The voices of smaller independents can get drowned out by brands with bigger marketing budgets. It's a confusing space for consumers with different definitions, certifications and a fair amount of greenwashing! We focus on finding creative, organic ways of reaching customers and trying to be as clear and transparent in everything we do. It can be hard to find suppliers who fit our sustainable code of conduct, and who are also able to produce smaller volumes than they might for larger brands.
Why is it important to be ethical in business?
It is important for businesses to be ethical and sustainable because their activities can have a big impact on people and the environment. I believe that business can be a force for good and am keen to ensure we embed ethics and sustainability in everything we do. I also think that being ethical makes sense from a long-term financial perspective. Businesses need to make sure they are able to respond to the increasing number of customers who will scrutinise their activities.
What steps are you taking to ensure your brand operates as ethically as possible?
We use 100% GOTS certified organic cotton and non-toxic dyes. Conventional cotton is toxic for farmers and workers who come into close contact with the crop, and more harmful for us as consumers too, particular when it's close to your skin. We are Fairtrade certified, PETA-approved vegan, and working towards B Corp Certification, and we work with a manufacturer that's SA8000 Certified. We also have a focus on ethical marketing and avoid unhealthy imaging.
How important is sustainability for businesses? What are you doing in your business to reduce your environmental impact?
GOTS Certified organic cotton is more sustainable than non-organic cotton. It's mostly grown on rain-fed land and uses no pesticides.
We have just signed up to the 2020 Circular Fashion Pledge and are working on a project to implement a take-back recycling scheme for our underwear. We use reusable organic cotton bags, biodegradable mailers and operate a zero-waste policy. We also avoid any single-use plastic and make sure any materials used are recycled and recyclable.
What are you not doing in your business but want to improve on?
Our underwear contains 5% elastane for fit and quality purposes. This fibre is a plastic that is derived from crude oil; it doesn't decompose and there can also be a number of environmental issues in its production. This is something we want to improve, although because of their very high cotton percentage, our undies can be effectively recycled in fibre-to-fibre processes. We are hoping to implement a circular take-back scheme for our underwear by the end of the year.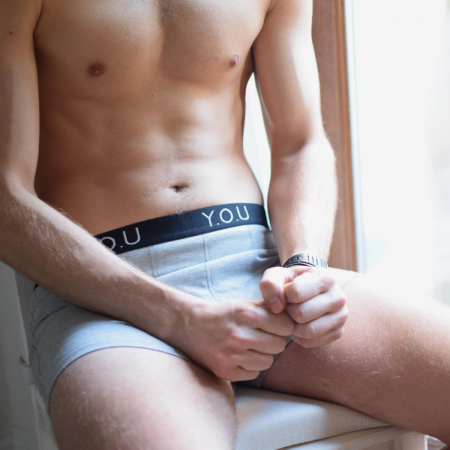 What is your supplier and sourcing policy?
We only work with suppliers who match our own very high standards when it comes to upholding human rights, respecting the environment and operating responsibly. We have a detailed supplier code of conduct in place which specifies standards around worker's rights and treatment, occupational health and safety, business ethics and environmental consideration. I went to India in May 2019 to meet our manufacturers and learn about their processes – all the way from yarn to Y.O.U undies!
In 10 years from now where would you like to see the fashion/beauty/travel world? From a business and a consumer perspective
From a business perspective, I hope that a commitment to sustainability will be normal and the minimum standard across the fashion, beauty and travel industries, rather than a selling point or unique feature. Regulations and consumer expectation will mean that ethical commitments will be prioritised despite potential impacts on profit. I hope that these industries will become a force for good! From a consumer perspective, I would like to see an increase in the amount of choice in the ethical and sustainable segment of the market, and I would also like these products to become more affordable.
Do you have any favourite ethical and sustainable quotes, or any key influencers that inspire you?
Josephine Fairley: Co-founder of Green & Blacks, she's somebody who has been aware of the importance of organic and Fairtrade products from the start.
Arizona Muse: A British-American fashion model who's vocal in her support for sustainable fashion, and all things environmental.
Fashion for Good: An organisation that facilitates developments in sustainable fashion. They've created an ecosystem that brings ideas together.
Why should the general public care about supporting ethical and environmentally responsible brands?
The public should care because consumer demand has a massive potential to make brands change their ways and become more sustainable. We really can all vote with our wallets!
We also believe that conscious consumerism has the power to make a massive difference, and we're on a mission to prove that the cumulative effects of ethical shopping choices can be significant.
You can shop our selection of ethical luxury from our carefully handpicked family of brands that care.