We wanted to know more about the people who make the products at Jewelled Buddha. In this blog, Harjit, one of our EBD members and our Ethical Fashion Blogger who founded Jewelled Buddha, shares her experiences from her trip to India to meet the people who make the artisan crafts she sells.
---
EmpowerING Craft Communities In Rajasthan
Want to know who makes our stunning collection of handwoven homeware? Like you, it's incredibly important to me to know that the artisans who make our products are paid fairly and empowered to live a life that's economically progressive. Which is why I found myself in The Great Thar Desert – a vast, arid and inhospitable expanse of land in Rajasthan, India. Just like the unpredictable desert winds that blow in this region, I landed at Jodhpur airport unsure of what to expect. I had come to find out how our artisan made homeware empowers craft communities in Rajasthan and meet the NGO that runs it.
I wanted to see for myself just how much of an impact selling these throws and cushions was making to the lives of the artisans. I wanted to know how they were treated, who the weavers were and learn more about the age-old craft of pitloom weaving.
Above the heads of a bustling crowd outside the airport, I spotted a pair of arms holding up a signboard. I was relieved someone had shown up. Communication had been worryingly sparse, informal and in another language! I'd literally ended up here on trust and instinct alone. But little did I know that this was to become one of my most memorable work trips!
As I met Rewata from the NGO and the driver, we joked about how great it was to finally meet and how relieved I was that he'd actually shown up! We travelled about 5 hours outside of Jodhpur. Dusty towns gave way to semi-arid desert scenes, remote villages and cars turned into camels and carts carrying goods and people. Men in colourful turbans and women with faces covered by colourful dupattas (shawls,) dotted the landscape. This was a different side to modern India I'd just travelled from. Here I could tell life was more unpredictable.
We arrived at the NGO headquarters. A block of sand coloured buildings that housed an office, workshops, and accommodation for the weavers. I spent three amazing days at the NGO, getting to know the family-run business, meeting all the weavers as well as the village communities who loom our handcrafted throws and cushion covers.
Started in 1991, the NGO was formed by master weaver Rewata, in response to social, economic and environmental issues. Over many years, frequent droughts had stopped all farming and over centuries the rural poor lost their land to the upper classes. As a result, weaving became the only means of creating a livelihood. With class and social inequality to contend with, generations of oppression left these weavers socially and economically weak. To make things worse, the extreme heat of the Thar Desert, frequent malaria outbreaks, high unemployment, and an underfunded health and education system meant many perished and future generations remained poor. Modernisation also meant the youth left for the big cities in the hope of a better life, leaving the traditions of weaving to the older generations. Craft and heritage were dying out.
In response to all the challenges faced by these communities, Rewata set up the NGO to create an income-generating programme to enable weavers to produce vibrant handmade textiles for a global market. Through this they could earn a sustainable and dignified livelihood. Today the NGO have spread to 12 villages in Rajasthan and support more than 170 weavers of which 20 are women – not an easy feat considering it's such a male dominated society.
Through their work they support the most marginalised of communities – Untouchables and women. Empowering women is a big part of their mission and make up 10% of their weaver communities. In fact, this tiny NGO successfully challenged the centuries' old tradition that forbade women from weaving, empowering them to earn a wage, gain social status and independence. They reach out to the wider village communities by running educational programmes that empower communities around sensitive issues such as child marriage and female infanticide.
What I loved about the NGO was that it was a family run business, owned by the weavers with the wellbeing of the weavers at the heart of the business. Profits are shared amongst everyone and every employee receives an annual bonus, life insurance, interest-free loans, and a savings support scheme. With the help of support groups and sponsors, the NGO enables the youth to study abroad, run dozens of schools and are at the forefront of relief during natural disasters.
Over three days, I met the various artisans that produced everything from traditional hand-loomed clothing to bags and textiles. I got to know the amazing team who worked behind the scenes and I was taken through every stage of the weaving process from spinning, weaving to dying.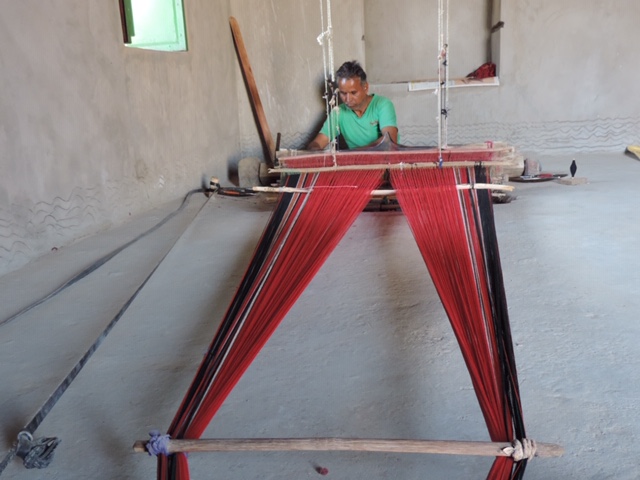 In a nearby village, I met a couple of pit loom weavers who made our home textiles. A husband and wife called Anju Ram and Nijra who weaved from their home. Having seen a pit loom before, I was greeted by Anju Ram who never once stopped weaving throughout our conversation. He sat on the floor, with his feet in a pit and weaved with deft and skilled accuracy on a loom hung from the ceiling. The yarn extended, forking out like a snakes tongue – it was fascinating to watch and the speed at which he weaved was mesmerising. This was 35 years of tradition passed down from father to son.
Nijra his wife sat in the courtyard, quietly spinning, whilst her children and extended family carried out their daily lives. I sat with her and she told me stories of how her hardships were changed by working with the NGO. How she now had a paka (proper) house and how she was able to support her family. I've met artisans before who work for cooperatives and social enterprises, but the respect shown here for the NGO was so apparent. Probably because the impact was the greatest due to the extreme environment. Everywhere I went, people would ask me what I was doing there. I'd tell them I was here with the NGO and instantly, they'd have a smile of gratitude on their face. "They care" they'd say. "They do good work".
Meeting the artisans who painstakingly craft our homeware had been a privilege. I didn't want to sit on the sidelines and tell a story I'd not had the privilege to be part of. Travelling all the way to Rajasthan, enabled me to experience first hand, how enormous challenges can be turned into opportunities that benefit the most vulnerable. It's provided an insight into how the customer can be pivotal in the process of making a difference to the lives of marginalised artisans so far away.
Crafts are constantly at risk of dying out, as the fine line of poverty and inequality can make or break generations of heritage. But knowing that every time a consumer purchases a throw, enables an artisan to have a dignified life, preserve age-old craft traditions and reduce poverty makes it all worthwhile. After all, if consumers stop buying, demand slows down and artisans don't earn a wage. In this harsh climate of desert life, the fine line between living and poverty is fragile and easily upset. Now when I think of my homeware collection, I know who made them – it was Anju Ram and Nijra.
Telling stories of artisans and being transparent is something I value. Transparency allows consumers to be empowered by choice, so they can make informed decisions about what they purchase. By sharing your values with a like-minded, informed community, consumers can see that by voting with their wallets, they've made a difference by impacting the lives of artisans in a positive way. If we're raising awareness and changing behaviours around fast fashion, we need to communicate the impact of ethical fashion in a way where people can feel they're playing a part in changing the fashion industry. They can literally be the change.
On the final night as I sat on the terrace with the wind blowing through the desert, I reflected on my time with the weavers. It had been an inspirational three days of connecting with people who had challenges I didn't even have to consider. Over endless cups of hot sweet chai and homemade lunches of curried desert vegetables, I'd experienced such warm hospitality, was welcomed into homes and even met extended families! Not the usual business trip I'd envisaged.
One night the wind felt different. It whipped up the sand around my ankles and occasionally as a truck passed on the highway nearby, it caused a tiny tornado of sand and dust to spiral up to the sky. It wasn't unpleasant, in fact, it felt surreal and reminded me of the stories of legends, famines, and disasters that Rewata had told me about. As the wind blew, I remembered the name of my homeware collection – The Desert Winds Collection.
It made me smile.
Harjit Sohotey-Khan

---
Harjit is the founder of Jewelled Buddha clothing brand for the empowered woman – and regularly sells her collection of handpicked artisan goods at pop-up shops and markets across London, as well as online.