Interview with the founder of The White T-Shirt Co
In today's interview we speak to Penny Marron, the founder of The White T-Shirt Co to find out why she set up a business with such a focus on strong ethics and sustainability. The White T-Shirt Co create a range of GOTS Certified organic cotton T-shirts for men and women, including bodysuits and night shirts.
Thank you for wanting to be part our exclusive network. What were your reasons for joining us and investing in the Ethical Brand Directory / Academy and community?
We have been designing and selling quality t-shirts, made to last for many years. But only recently has the importance of quality gained traction with influencers and consumers. It's now clear that we all need to take our environmental and social responsibilities seriously. Our quiet beavering needs to be a roar. We need to be in front of the right people, working with like-minded brands and champions to tell a much more convincing story about the importance of choosing our clothing well.
Can you give me a brief overview of your brand and the type of products you sell?
The White T-shirt Co is about essential wardrobe staples made to last. Quality organic basics to work your wardrobe around. Minimalist women's and menswear in classic colours, that mix, blend and layer beautifully are enhanced with a Tailor Your Tee service for a perfect fit. All the companies t-shirts are GOTS verified. Verification means that, throughout the supply chain, no compromise has been made to product quality to meet the strict environmental and social standards set by the GOTS award
What are the 3 most important things that people should know about your brand?
Three things that sum The White T-shirt co up:
1. Made to last – each t-shirt comes with an Ethical Promise of long life and quality workmanship.
2. Made with minimal harm to the environment – All our t-shirts are GOTS certified. Third-party verification means independent assurance that we meet and maintain our environmental and social responsibilities.
3. Classic wardrobe staples – style and fit which will last season to season. With a Tailor Your Tee service to provide the perfect fit
What was your WHY? What inspired you to set up your business?
From being young, I have suffered from Eczema. I have always had to seek skin-friendly options to wear and use on my skin. When I started work, a white t-shirt became a wardrobe staple, but the holy grail was a t-shirt that ticked the boxes for quality, ethics and affordability. So when I was on maternity leave and having severe problems with my Eczema, the hunt for that elusive perfect white t-shirt began. The most classic of wardrobe staples made without compromise to quality, style or ethics.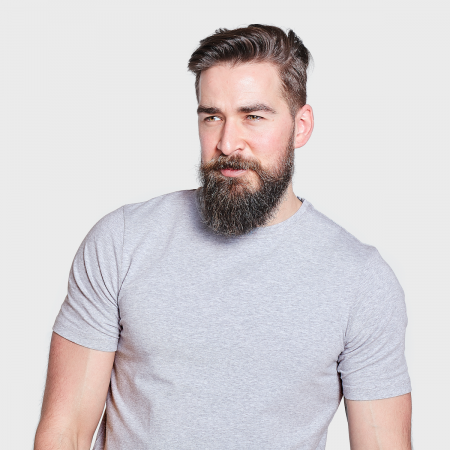 What challenges do independent brands like yourself face?
As a start-up, the main challenge is working alone, being a jack of all trades. As you grow, the problem is managing growth while keeping integrity, quality and customer service. Whichever stage you're at having the right expertise available is a challenge. It's a cliche, but you inevitably find yourself working in the business, rather than on the business. Having the time and expertise to grow awareness, is one of the biggest challenges…it often feels a luxury rather a necessity!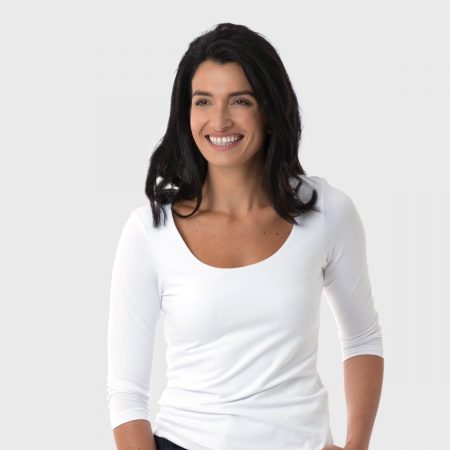 Why is it important to be ethical in business?
From the beginning, environmental responsibility has been at our heart. We wanted clothing that we could wear conscious free, but we lacked expertise which is why we chose to work with our Danish partner, Green Cotton. They are one of the first companies in the world to go organic back in the '80s. We all know the terrible stories behind the clothing industry. There is no excuse or reason for us to dress at the cost of our planet and people. As brands and consumers, we have to choose better.
What is the link to your page on ethics on your website?
What steps are you taking to ensure your brand operates as ethically as possible?
We work closely with our Danish Partner Green Cotton. They have been working and leading organic clothing development since the launch of their first organic t-shirt in 1884. This means we have a wealth of expertise and knowledge base at hand. Importantly though all our t-shirts are GOTS [Global Organic Textile Standard] certified, which means we are independently monitored throughout our supply chain. From picking the cotton to delivery we have strict criteria to adhere to.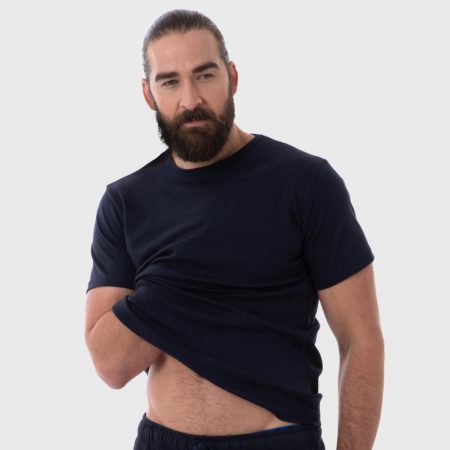 How important is sustainability for businesses? What are you doing in your business to reduce your environmental impact?
Sustainability is central to everything we do. Sustainability to us means producing clothes and packaging that create as little harm to our environment as possible, in ways that allow our earth to regenerate itself naturally. Sustainability also means longevity for us. Creating clothes that last, clothes that are durable enough in style and quality to last season after season, wash after wash. We only work with suppliers who can demonstrate and evidence the same commitment and GOTS requirements
What are you not doing in your business but want to improve on?
We only use compostable card and paper in our customer packaging, however, a major issue is the bags that our t-shirts arrive in. The bags are bio-degradable, but they still need disposing of responsibly. We run coffee mornings to make eco-brics from the bags collected plastic bottles, but it's all still waste. Without bags, the logistics of stock management and cleanness is a challenge. We are also investigating schemes for customers to return their t-shirts for re-using or re-purposing.
What is the link to your page on sustainability on your website?
What is your supplier and sourcing policy?
All our t-shirts are GOTS [Global Organic Textile Standard] certified. This means that through our supply chain all our suppliers have to meet GOTS requirements of environmental and social responsibility. We detail on our Production Page a material breakdown and geographic location on our Ethics Page.
In 10 years from now where would you like to see the fashion/beauty/travel world? From a business and a consumer perspective
In ten years, I would like to be free of the word 'fashion'. It's such a pleasure when you're away on holiday with minimal clothes and make-up, no faffing around deciding what to wear or how we look. You have a sense of freedom to focus on the present moment, the world around you rather than YOU. How wonderful would that be every day? In ten years, I love the thought that we have completely shifted our values and have the mind space to focus on the bigger picture. To be more concerned with each other and the world we have left, rather than 'stuff'.
Do you have any favourite ethical and sustainable quotes, or any key influencers that inspire you?
The classic from Vivienne Westwood "Buy less. Choose well. Make it last. Quality, not quantity. Everybody's buying far too many clothes." says it all!
Why should the general public care about supporting ethical and environmentally responsible brands?
It is the independent brands who have led by example to highlight the issues we have with waste, climate change and the people who produce our clothes. Smaller brands have a different way of working and thinking; they have less to risk than the big brands. Smaller brands tend to be led by passion, not profit. By supporting independent brands, we're supporting the independent thinking that starting to change our buying and living habits…and demanding more of our high street brands.
Check out their EBD listing: