We've said it before but when it comes to vintage clothing, London has unlimited options. Buying Vintage and pre-loved is one of the most sustainable ways to build your wardrobe.
If you want to see where the closest vintage shops are you – check out our Vintage map here.
In this blog our Vintage blogger Elly, shares 9 stores you need to check out over in West London.
---

If you love the exclusivity of an upscale boutique, you might not have considered vintage shopping. A trip to west London will change your mind though; world-famous Portobello Road and the surrounding streets is a label-lovers paradise. From antique clothing in the market, to shops that are treasure troves of carefully selected designer pieces, you might not find bargains galore, but you will certainly find no shortage of luxury from decades past. While the market is bustling and busy, the designer vintage boutiques provide a rarefied shopping experience. Allow plenty of time for your walk along Portobello Road; it can get very crowded at weekends, plus there are likely to be all sorts of distractions along the way!
Here are 9 of the best Vintage boutiques or places that I have personally visited and recommend:

Retro Man
Retro Woman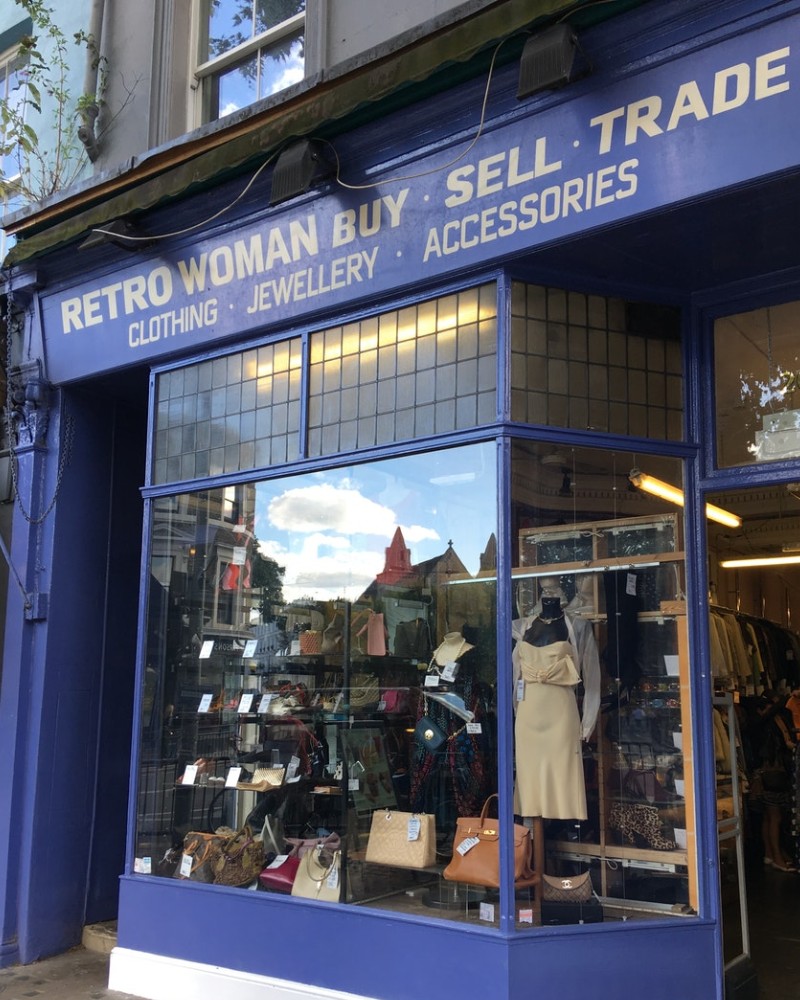 20 Pembridge Road

A sprawling consignment store stretching over several floors of several different premises, this is the place for eagle-eyed shoppers to snap up a bargain. From modern high-street and designer labels to designer coats and accessories, as well as vintage records and homewares, the shop is only a stone's throw from Notting Hill Gate station and will definitely reward a patient shopper!

www.mgeshops.com Instagram: @retrowomanldn

Portobello Market

Head down to the area under the Westway on a Friday for a relaxed browse around market stalls brimming with vintage and antique clothing. Prices and quality vary from stall to stall, but the stall holders are friendly and chatty, and there is something for every budget: I picked up a vintage silk scarf for £5. There is definitely more of a "true vintage" vibe in the covered market area and the prices reflect this, further up the road you'll find a much more casual assortment of stalls selling secondhand bargains, often literally on the pavement!
www.portobelloroad.co.uk/the-market/#fashion Instagram: @visitportobello

295 Portobello Road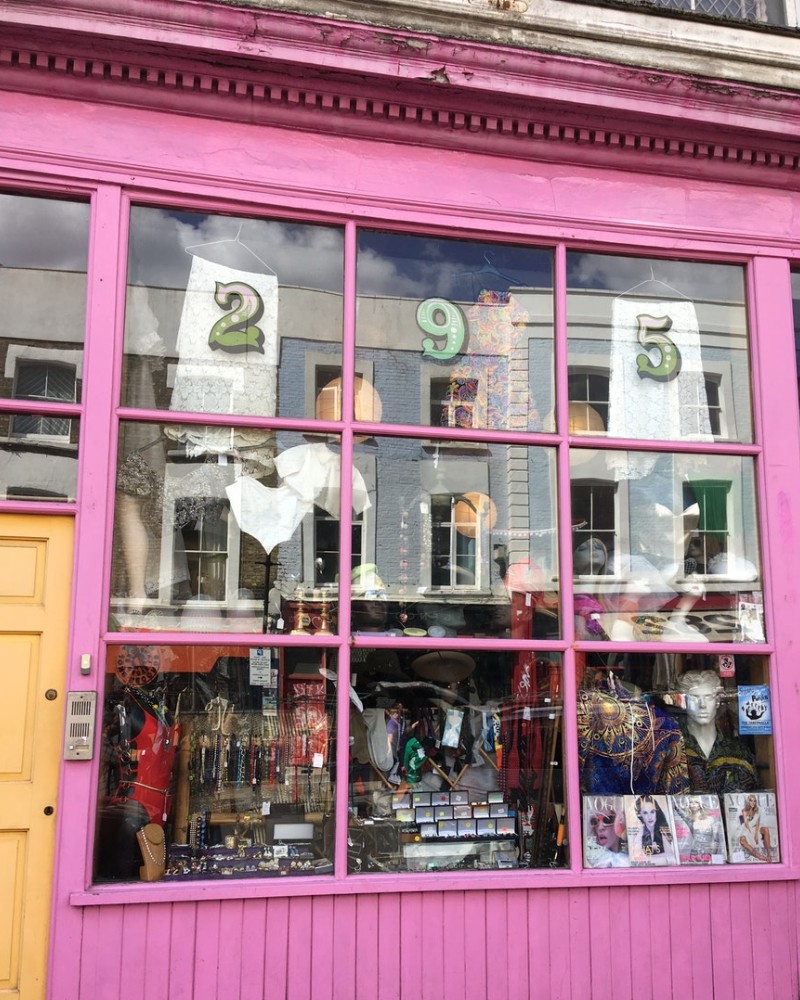 This quirky shop has a mixture of modern secondhand clothes and vintage from the 70s and 80s. Prices are extremely reasonable, but you'll have to go there in person; the shop has no online presence.

Goldsmith, Portobello Road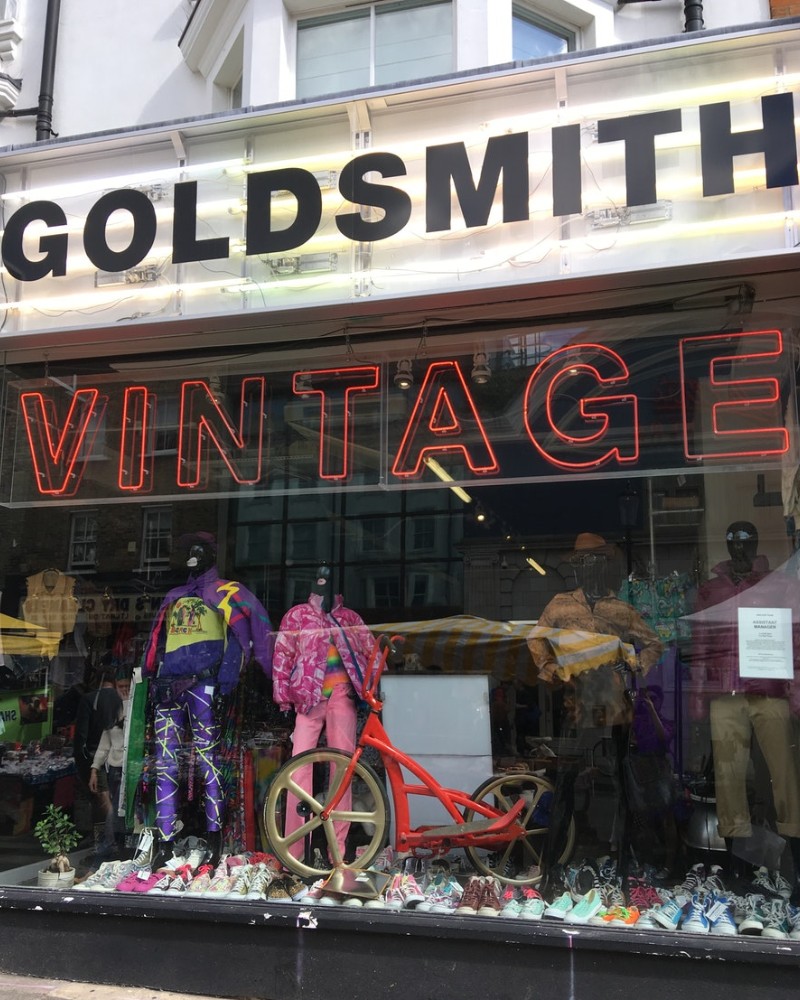 If you're looking for bold prints, bright colours or anything with an 80s vibe, this is the place for you! Prices vary, but there are often items on sale, and there are bargain bins that are well worth rummaging through! Goldsmith Vintage also sells on ASOS marketplace.
www.goldsmithvintage.com Instagram: @goldsmithvintage

Emma Goldman
112 Golborne Road

Good quality men's and women's vintage pieces from the 50s/60s makes up the stock here. If you're a fan of "true" vintage rather than retro clothing, there's a great selection of men's and women's clothing. This shop does advertise the fact that it sells vintage fur on its website; for my thoughts on whether this is an ethical investment, see the footnote to this article.
www.emmagoldmanvintage.com Instagram: @emmagoldmanvintage

282 Portobello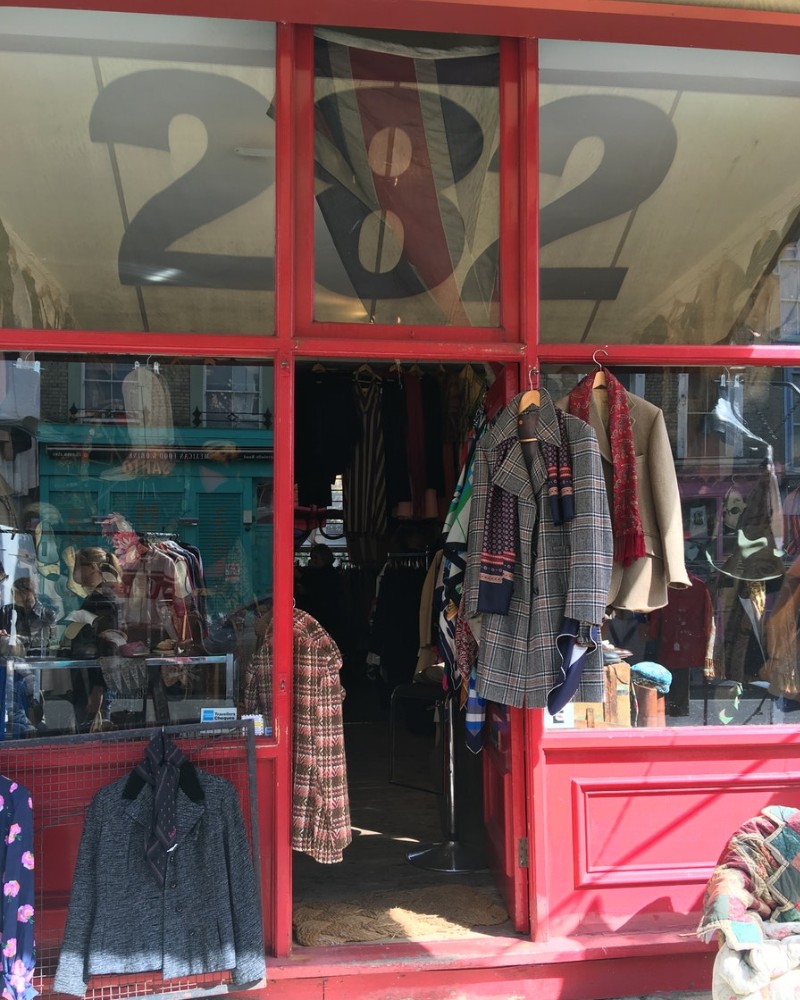 282 Portobello Road

This shop specialises in British heritage brands like Burberry and Barbour, and stocks mainly outerwear. A good-quality vintage wax jacket or mac will last for years and never go out of fashion, so this is a great place for investment pieces for your wardrobe.
www.282portobello.london Instagram: 282portobello
Karen Vintage Boutique @ 293
Portobello Road
An elegantly styled boutique selling hand-picked designer vintage. From tailored daywear to sparkling evening wear, if you're looking to treat yourself this would be a great place to pick out a luxurious investment piece for your wardrobe.
https://karenvintageboutique293.business.site Instagram: @scarletpimpernella

One of a Kind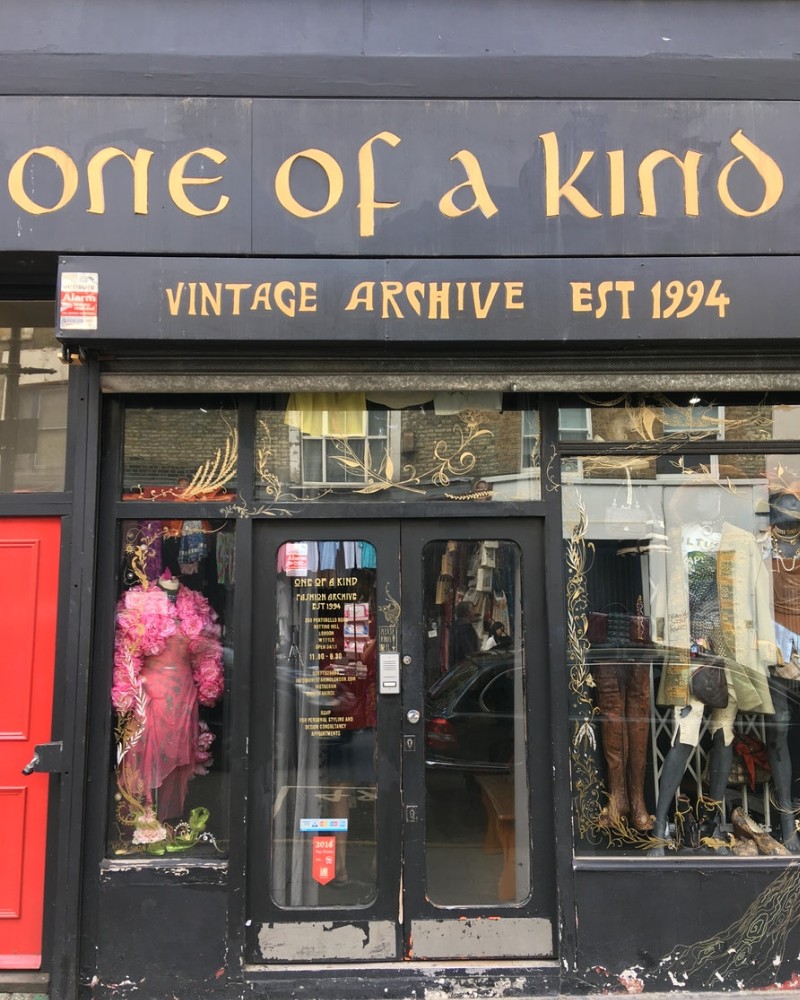 Portobello Road

The stock in this gorgeously atmospheric boutique really lives up to its name, with unique vintage occasion wear dazzling the eye everywhere you look. Head here if you need a show-stopping outfit for a very special occasion. These pieces of fashion design history do have a designer price tag to match, though.
www.oneofakindvintagestore.com Instagram: @oneofakind.archive

Rellick
8 Golborne Road
With three vintage experts hand-picking designer vintage clothes for this sleek and modern boutique, it's no surprise that it's a favourite haunt of vintage aficionados like Kate Moss. Expect designer glamour and a range of styles from different decades. Again, expect designer prices, but keep an eye out for their sale events.
www.relliklondon.co.uk Instagram: @rellikvintage
I hope you've enjoyed this blog post – and if you want to explore more of London take a look at my 8 Vintage Clothing Stores in East London blog.

If you have any recommendations for Vintage store in London please let us know in the comments.
A note on vintage fur: I noticed more real fur being sold around Portobello Road than I have elsewhere. I deliberately did not include a couple of shops that specialised in the sale of vintage fur.

While the Ethical Brand Directory (and myself) have always been staunchly anti-fur, there is an ongoing debate in the vintage clothing community about whether wearing vintage fur is acceptable. While it's true that the animals used to make vintage furs are long dead, this could also be all the more reason to think twice about buying vintage fur. However, we would never recommend throwing away vintage fur you may already have and replacing it with synthetic. Fur requires careful maintenance and storage at low temperatures, otherwise it starts to degrade and is a magnet for clothes moths.

At a time when design houses are turning their backs on fur, it is an opportunity to think about the signals we are sending, and what we are choosing to say about ourselves if we do decide to wear fur, even if it is vintage. If we're going to move on from a cruel trade that serves no purpose during our very mild winters, it's probably better to leave purchasing vintage fur firmly in the past.
I hope you've enjoyed this blog post – and if you want to explore more of London take a look at my 8 Vintage Clothing Stores in East London blog.
---

Elly Platt is an ethical fashion blogger on a mission to encourage everyone to love the clothes they own, and make thoughtful purchases that are good for people and the planet. As well as up-cycling and refashioning her existing wardrobe, Elly is always on the lookout for vintage treasures and sustainable fashion innovation. You can follow her on twitter @takeitupwearit